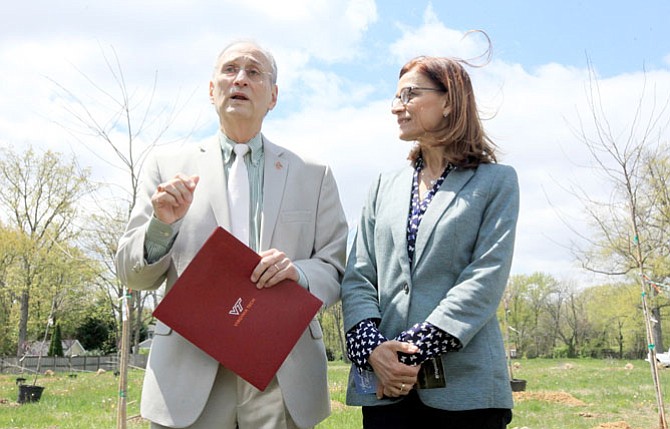 The lives of Joe and Mona Samaha were disrupted 11 years ago. Flanked by his wife and local politicians at Chinquapin Park on Sunday, Samaha reflected on the life and untimely death of his daughter, Reema, who was killed by a lone gunman at Virginia Tech on April 16, 2007. He dedicated a memorial garden to her and the other victims.
"For what we will have learned on our journey and revealed to all victims everywhere is that we can believe in God again, we can live again, we can laugh again, we can breathe again and we can trust again," said Samaha, who is the president of the Virginia Tech Victims Foundation, which sponsored the building of the memorial. "And the greatest gift is that we are able to find forgiveness. May we dedicate this grove in the memory of those lost on April 16, 2007."

The memorial garden includes 32 red buds, a gravel walkway and three park benches all designed to serve as a reminder to end gun violence. It was designed by Virginia Tech's architectural graduate school students Jenn Burch, Jake Fettig, Lynda Ramirez-Blust, Xiaolan Zhou and supervised by Nathan Heavers.
Freshman state Del. Chris Hurst (D-12), a former broadcast journalist whose fiancee Alison Parker was murdered in 2015 while conducting an on-air interview, also attended the event.
"We can contemplate the way that people die, and how horrible it is when it's by gunfire, how brutal it is when it's with a bullet. But we can also contemplate all of the wonderful things that the 32 who were killed at Virginia Tech accomplished in their lives," Hurst said. "I've certainly had to contemplate what happened to Alison, and what happened to us, and just like these trees they started as seeds. And we had a seed that we planted together. It only grew to be a sapling before it was cut down."
Mayor Allison Silberberg recalled the June 2017 shooting at Simpson Field, which wounded multiple people, including House Minority Whip Rep. Steve Scalise.
"Just recently I stood with members of Congress who were attacked at Simpson Field. They just had their first practice the other morning, and to say it was emotional is an understatement," Silberberg said. "For generations to come, people will be able to walk through this grove of trees and think about what has happened, but also what can be in our society."

Del. Mark Levine (D-45) said that the trees will serve as a call to action.
"We remember to honor those who died, to take this senseless violence and make some meaning out of it," he said. "We remember to rededicate ourselves, to make sure that this never happens again."