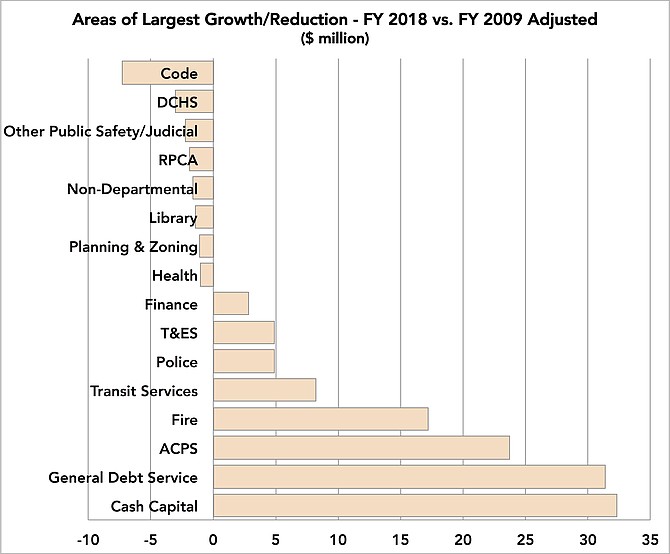 As the FY 2019 city budget process ends, what potential alternative designs didn't make the cut, especially with looming infrastructure challenges and certain trends of service reduction?
The gigantic costs surrounding sewers, Metro, city facilities and public schools are well known.
City Manager Mark Jinks fully funded the schools' 10-year capital improvement request, though only after the school system trimmed some $130 million off its prior year request. School Board Chair Ramee Gentry cautioned in January that "major gaps" remain.
Several services have trended downward over the last decade, according to a recent OMB report. Between FY 2009 and FY 2018, inflation-adjusted funding fell by $7.3 million (8 percent) and staffing by 84 full-time equivalent (FTE) positions (9 percent) in the following areas combined: community & human services; recreation, parks & cultural activities; libraries; and health.
"The city has been cutting back or eliminating lower priority projects and programs for some time. … There's not a lot of fat left on the bone," said Councilman Tim Lovain in an email. Local government's "core missions" include "public safety, public education, public health, and some add, public works. Those programs do account for the lion's share of our budget."
Yet Jinks' proposal contained numerous items that may not easily fall into those categories, such as:
Office of Historic Alexandria: $4.1 million, 27 FTEs

Visit Alexandria (taxpayer-funded tourism marketing): $3.3 million

Cultural activities (special events, arts): $2.5 million, 13 FTEs

Communications & public information: $1.5 million, 8 FTEs (for comparison, Fairfax County advertised $2 million, 21 FTEs)

Chinquapin ceramic floor tile replacement: $540,000

Public art acquisition & conservation: $353,000

Hanging flower baskets on King Street: $103,000

Summer interns: $75,000
For cost comparison, Councilwoman Redella "Del" Pepper proposed adding a position for $41,000 per year to assist older adults seeking employment. She proposed offsetting this cost by delaying funding for another position. She declined to comment on line items, but said that each had "some good solid reason." She had a hard time finding anything to cut, she said.
Councilman John Chapman proposed purchasing Renewable Energy Certificates (RECs) for $81,000 per year to counterbalance city facility greenhouse gas emissions. He proposed offsetting this cost in part by reducing other staff hiring. He didn't respond to a request for comment.
All told, council members proposed add/delete adjustments for only a few line items and only five taxes and fees, out of over 600. All of council's proposed tax and fee adjustments were for net increases. Aside from Councilman Willie Bailey and Vice Mayor Justin Wilson's separately proposed meals tax increase for affordable housing, the largest new influx resulted from $1.2 million in re-estimates and technical adjustments, and not from affirmative action by council.
"If there's something we missed in terms of efficiencies, we should look at that with fresh eyes next year," said Mayor Allison Silberberg.
There's also the question of city-owned property.
In 2007, the Economic Sustainability Work Group recommended that "The city should periodically evaluate [its] properties to determine their long term use which would be in the long term best interest of the city. The city should sell, lease or otherwise dispose of properties that it determines are not needed for a public purpose after determining what is the highest and best use of those properties. Parcels the city owns in commercial areas or high land value areas should receive special focus. Funds derived from land sales or lease payments should be reprogrammed to meet currently unfunded city capital needs."
The city hired a firm to analyze 361 city-owned parcels. In 2009, the firm recommended eight properties "as high-priority for potential sale/redevelopment." By 2016, the city had disposed of seven of these, generating net proceeds of $115 million, according to a newsletter by Wilson.
Last fall, Ad Hoc Joint City-Schools Facility Investment Task Force member Amy Liu said: "I feel like there needs to be a … discussion about whether we just have too many assets that need to be maintained, and so we want to shrink that portfolio …."
Task Force member Dwight Dunton suggested that it'd be cheaper to move city hall's functions to an office building than to renovate the current historic building. And Task Force member Dave Millard said the Torpedo Factory comprises the city's "single most valuable piece of property" and an "opportunity cost."
The city also owns seven museums and runs programming at four additional historic sites, according to Jinks' proposed budget. Most are in Old Town, where property values are high.
Asked if the historic/arts use of these properties represents their "highest and best use," city spokesman Craig Fifer said in an email: "The determination of the best use of a property takes into account more than quantitative economic measures, especially in the case of historic properties that cannot be replicated elsewhere."
Wilson says processes underway will determine how better to utilize city hall and the Torpedo Factory, though selling them outright isn't currently a likely option.
"There aren't a lot of people willing to let the market decide whether a historic building should be preserved or not. And the argument is certainly made that our historic buildings attract a lot of tourists who spend a lot of money," said Lovain.
Fifer says he doesn't believe the city has conducted a comparable study of its real estate inventory since 2009.
"Does it make sense to … do another comprehensive look at all of our real estate? Maybe," said Wilson. But not necessarily.
He affirms the importance of historic preservation, but wonders "whether the government needs to be the one to do that, or solely do that. In a lot of communities there are nonprofits that take that on … You don't see [other jurisdictions] spending the money that we do on these kinds of historic properties."
Councilman Paul Smedberg and Jinks also didn't respond to a request for comment. School Board members either didn't respond or said they weren't sufficiently familiar with the city's finances.