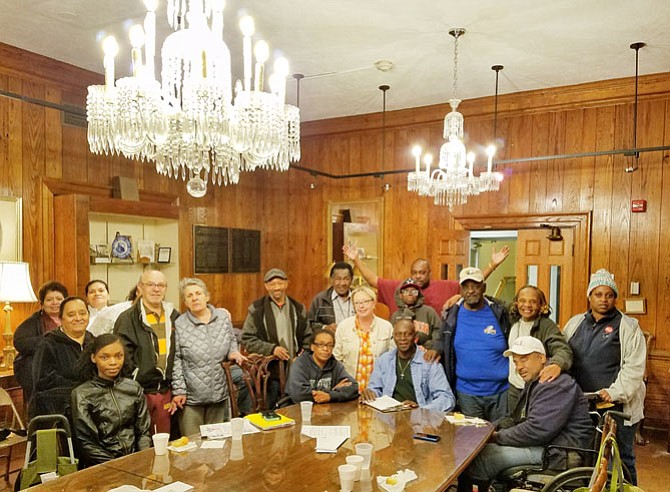 A patron of the Lazarus "food pantry" at Historic Christ Church sits around a table in the church library on Thursday, April 26 hand writing a letter to U.S. Rep. Don Beyer about proposed cuts in the Supplemental Nutrition Assistance Program (SNAP). The proposed legislative changes in the program would impact the people gathered in the room who depend on SNAP for assistance.

Twenty-one other patrons of the food pantry are writing letters to Senators Tim Kaine and Mark Warner as well urging them to "work on a bipartisan farm bill that protects and strengthens domestic nutrition programs, especially the Supplemental Nutrition Assistance Program." These letters will be delivered on May 7 to the Congressional offices by a delegation of adult and youth members from Christ's Church and the patrons of the food pantry.
Proposed changes in the SNAP program would impose stricter work requirements and include benefits and eligibility cuts.
The letter states: "SNAP already encourages work. When individuals can meet their basic needs, they don't have to worry about where their next meal will come from, so they can focus on finding and keeping a job."
The current SNAP requirements include not voluntarily quitting a job, taking a job if offered, and participating in employment and training programs.
SNAP (sometimes referred to as food stamps) provides a monthly supplement for purchase of nutritious food for a household meeting certain resource and income qualifications. For instance, in the state of Virginia, eligibility limitations translate into $1,005 monthly income for a household of one at 100 percent of poverty to $3,444 net monthly income for a family of eight.