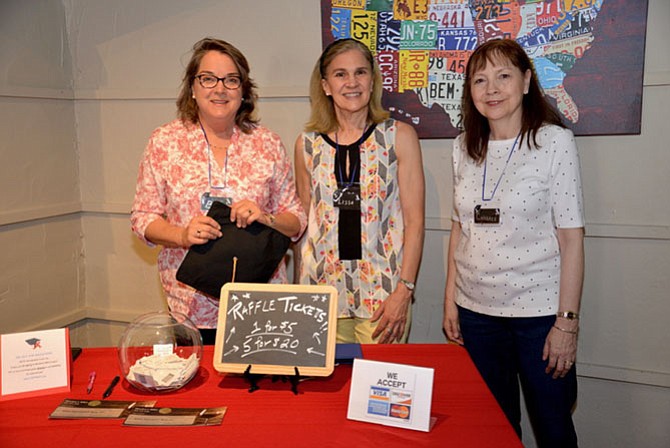 "People often think that everyone in our wonderful area can afford a higher education, but too often that just isn't true. Receiving scholarships made a real difference for me when I was a struggling nursing school student. I am honored to be part of this mission to raise funds for deserving young woman, to help them achieve their goals."
Barbara Chen, president of the board of the Great Falls Friends and Neighbors Scholarship Fund, was more than willing to talk about the non-profit's efforts and the women who have been served as a result. Chen, wearing a symbolic graduation cap, was manning the donation and raffle ticket table at the second annual Friends and Neighbors Scholarship Fund fundraiser Thursday evening at Mookie's BBQ in Great Falls.
"It's not just tuition," Chen added. "A lot of people don't think about the add-ons, like books, meals, even parking fees. It all adds up, and every little bit we can provide is important."
Though under the umbrella of the Great Falls Friends and Neighbors women's club, in 1983 the scholarship fund became a separate 501 (c)(3) entity with its own board, approved by the board of the women's club and very much supported by its membership.
The scholarship fund exists to aid local women over the age of 25 who attend George Mason University or the Northern Virginia Community College.
Through donations and fundraisers like the event at Mookie's, four recipients from George Mason shared a total of $5,500 for the 2017-2018 school year, with $2000 provided to two from Northern Virginia Community College. "We hope to raise a bit more this time for the 2018-2019 academic year. Here's hoping," said fundraiser director and fund board member Lissa Carter.
The scholarship fund also established two $25,000 endowments in 2016, one for each school, to ensure perpetuity of the monies that were previously donated for the cause. In memory of former club member Betty Carter, a scholarship is also awarded each year to a George Mason dance student.
Members of both boards, and a spouse or two, went to work at the benefit event, doing their best as "bartenders" and "sangria sellers." Since Mookie's was donating 10 percent of the takings from 4-9 p.m. — including bar tabs and take-outs — Beth Colligan, a board member of GFFN, and Ken Chen, husband of Barb Chen, encouraged patrons at the bar. Judging by the numbers of people holding either a white or red sangria in their hands, GFFN Hospitality VP Jackie Culhane worked some magic at the sangria stall, as well.
Lissa Carter reported that the Scholarship Fund added about $1400 to their coffers before the night was over, but reminded everyone that "there's no deadline for donating!"
Information about the Great Falls Friends and Neighbors Scholarship Fund can be found at their website www.gffnsf.org. The site includes inspiring stories about scholarship recipients, and how to donate.