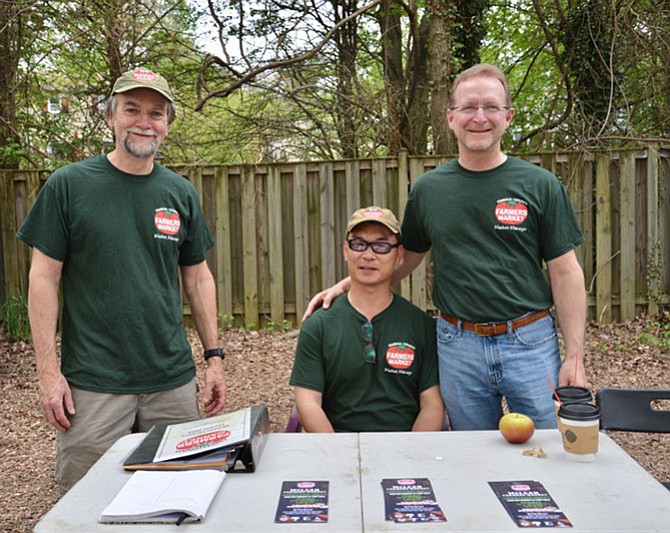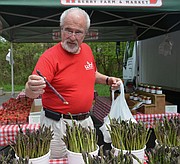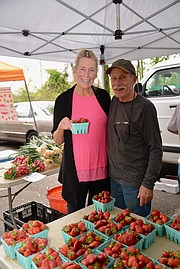 Vendors at the McLean Farmers Market
Bonaparte Breads
F.J. Medina & Son Farm
Grace's Pastries
Hidden Creek Farm
Lois's Produce
Leedstown Farm
Lyn Phipps Plants
Pickle Factory
Reid's Orchard
Rick's Roasters Coffee Company
Sharkawi Farm
Sweet Twist of Ecuador
Valentine's Bakery & Meats
Westmoreland Berry Farm & Market
The McLean Farmers Market is now open for the 2018 season.
The market, located in Lewinsville Park at 1659 Chain Bridge Rd., is one of the oldest among the eleven farmers markets operated across Fairfax County under the County Park Authority.
"I've been waiting for this day," admitted Kathy Neal of McLean at the May 4 market opening.
Neal, a board member of the Greater McLean Chamber of Commerce, said she's been a patron of the market for at least 25 years and has gotten to know all of the veteran vendors. "I come to shop, but I also come to catch up with these old friends;" friends like Bob Jochum of Leedstown Farms in Colonial Beach, Va. Jochum, who works in partnership with Lois's Produce, has been bringing his goods to the McLean market for almost 30 years. He enjoys stepping out from behind his counter to have a laugh with the visitors who crowd his stall.
"It's great being here," said Jochum. "Of course, it helps in this business when you're one of those people full of fertilizer," he punned to grins and giggles from the crowd around him.
SEVERAL OTHER VENDORS belong to the same "old-timers" club, like Sabry Sharkawi, whose fragrant space draws browsers in to buy some of his handcrafted teas, spices, potted herbs and flowering plants, and Sam Dennis who attracts them with the savoury scents of goodies from Grace's Pastries of Herndon.
So what keeps vendors and patrons returning year after year?
"So many things," said Assistant Market Manager Bill Smith. "Of course, the quality and the taste of the produce and other goods is the number one attraction. When food is made with such care, and sometimes even artistry, it's a real pleasure to eat healthy."
All of the Fairfax County Farmers Markets are strictly "producer-only." Smith explained that this means the vendors can only sell what they raise on their farms or that they make from scratch. All of the farmers and producers come from within a 125-mile radius of Fairfax County, and are encouraged to use local ingredients in the creation of their products.
Smith also credits the setting among the trees and the trails, and the "town-square" feel of the market set up for its popularity. There's seating under the trees, right in the middle of the action next to the entertainment like opening-day act Larry Rice and his playlist of songs that had more than a few shoppers humming, and even singing along.
"That space gives people somewhere to take a break and enjoy some of their purchases," said Smith. "In addition to our treasured veteran vendors, we keep diversifying the market. Now you can head for those lawn chairs with a cup of coffee from Rick's Roasters Coffee Company [a veteran-owned small batch roasting enterprise located in Stafford] to go with the fruits and baked goods. Or how about a pickle?" from the Pickle Factory, another first time market participant.
Another new entrant to the market scene was Sweet Twist of Ecuador from Alexandria. Mauricio Lafebre had quite an audience as he mixed and mashed a giant "wok-like" pan of clumpy greenery over an urn full of ice. His wife Ana Garcia is the owner and the "mixologist" of the Ecuadorian-inspired flavors of soups, sorbets and empanadas.
"What's in it?" asked curious McLean resident Pam Steele, leaning over the pan and peering at the concoction.
"Kale, spinach, passionfruit and pineapple," replied Lafebre.
At that reply, those less fond of supergreen smoothies looked like they might wander off to the next stall, but Lafebre convinced a few sceptics to give the results a try. Moments later he had to postpone any more mixing, so he could sell a fair amount of his "Crazy Green" sorbet by the pint. Not everyone waited to get their purchases home, opting to open up the containers and enjoy right then and there.
"It's the right name. It's crazy good," agreed Steele, who purchased several pints of the green, then added a few of the blackberry sorbet to her shopping bag.
MANY OF THE FARMERS and producers are happy to talk about their methodology, as well as sell their wares. Andrea Young and her husband own Hidden Creek Farm in Fauquier County. They may be newcomers to the farm life, but they have immersed themselves in their new passion to be a conservation reserve. To raise their heritage breeds and crosses, they have developed a Green-Pastured process of rotational grazing and whole-farm management.
"We want to do right by the livestock, our staff, our customers, and the Earth," said Young, who says their new venture has given her a real appreciation and admiration for all of the small scale farmers "who help to feed us."
All of the vendors have stories to tell, as well as healthy and delicious goods to sell – too many to give them all the attention they deserve.
"Folks will just have to come out and see – and taste! – for themselves," said Bill Smith. "And bring the kids for a healthy treat that they can pick themselves."
With the exception of May 19, when they will be closed for McLean Day preparations, the McLean Farmers Market takes place every Friday, from 8 a.m. – 12, rain or shine through Nov. 16.