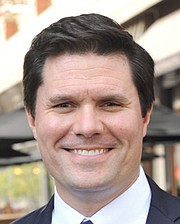 Why are you running for Montgomery County Executive?
This is my hometown and I care deeply about its future. For too long, we have had the right social values – celebrating diversity, striving for equality, respecting public service – but not the right economic values. As recent reports have shown, our private sector economy is languishing, and that spells trouble for our county and the revenues needed for social services. My vision for Montgomery is a community that can have it all. Worldly residents and world-class businesses, progressive social values and economic progress, excellent public schools and modest tax rates. I know that I can help enact that vision. As an outsider to local government, I have the freedom and fresh perspective to move the County forward. But as a veteran of Annapolis, I know how government works and how to get hard things done.
Past experience: political and/or professional.
Professional Experience: Attorney (Akin, Gump, Strauss, Hauer & Feld, 2000-present)
Political Experience: Member, Maryland House of Delegates (2007-present); House majority leader (2017-present)
What do you consider the biggest problem facing Montgomery County today?
I am deeply concerned about our economic trajectory. Demographically, the County is growing but growing among families in poverty. Many in our traditionally affluent suburban communities are shocked when I tell them that nearly half of our elementary school students receive Free And Reduced Meals and a quarter require ESOL support. To meet additional needs of these students and families requires significant resources, and we do not want to shortchange the school experience of other families, or neglect other critical areas such as transportation and public safety. The neglect – at times even contempt – our Council has shown the private sector has directly led to our anemic economic performance, making it that much harder to supply the resources we need. I want to reverse that trend, making Montgomery a place where businesses, employers, and young professionals are our surging demographic and poverty is on a steady decline.
What is your dream accomplishment for the County?
As County Executive, I'll strive to achieve three primary objectives:
Objective 1: Improve Quality of Life. Ensure that we are making the right investments in the essential services that local government exists to provide: education, transportation, and public safety. Good schools and safe neighborhoods are the reason so many of our families came to Montgomery County in the first place, and they are essential to our future. I will make sure our funding priorities reflect these public priorities.
Objective 2: Recharge Our Economy. A critical aspect of funding these services, and allowing our neighbors to build stable lives is access to good jobs with good wages. Montgomery County has developed a reputation as a county that is hostile to private enterprise, leading too many small and large businesses to choose D.C. or Virginia. When that happens, our property tax base shrinks and our income tax revenues suffer. As County Executive, I intend to show that we can be a progressive, inclusive community that also boasts a thriving and exciting private sector economy.
Objective 3: Reform Local Government. Montgomery County needs to provide a great public education, safe communities, and the transportation infrastructure to let families spend their time together instead of stuck on congested roadways. The County does not need to be in the liquor business or the cable media business, for example. In my administration, we will improve our delivery of the core services by reducing our involvement in unnecessary and ancillary enterprises and by better embracing technology.