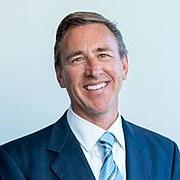 Why are you running for Montgomery County Executive?
I am a lifelong Montgomery County resident. I went to school here. It's where my wife and I met and where we're raising our kids. We love it here, and yet, I'm running for County Executive because our county is not reaching its potential. Our elected officials have over developed areas without properly investing in our schools and transportation – leaving us with overcrowded schools and some of the worst traffic in the country. And, because our economy has been stagnant for the past 10 years, our county officials continually raise taxes – making our county increasingly unaffordable for many.
We need new strategies and a fresh perspective to grow our economy, create high-wage jobs and generate new funding so we can pay for our education, transportation, senior services and other county programs that we all expect and deserve. I will invest in our education system to close the achievement gap by expanding early childhood education and adding more programs to ensure all students graduate high school college- or career-ready. I've developed a comprehensive Jobs and Economic Plan, with real solutions to get our economy growing so we can fully-fund our priorities without raising taxes (read the Plan at www.blairformontgomery.com).
I'm committed to our community, to preserving our tremendous resources and diversity, and to making our county an even better place to live, work, and raise a family. We all deserve better.
Past experience: political and/or professional
For the past several years, I've been increasingly active with our local government. I have been a community organizer and part of Ike Leggett's County Executive's Economic Advisory Group. I've also been actively involved in projects for the Bipartisan Policy Center, a nonprofit think tank, working to address a number of challenges facing the public sector, including creating a vibrant entrepreneurial environment, ensuring access to early childhood development and accelerating health innovation.
Previously, I founded and was the Chief Executive Officer of Rockville-based Catalyst Health Solutions, Inc. My team and I grew Catalyst into a Fortune 500 company in just over a decade, employing thousands of employees across the country and saving customers $9 billion in prescription drug costs. The company received numerous prestigious awards including Fortune's World's Most Admired Healthcare Companies and Fortune's 100 Fastest Growing Companies, as well as individual awards including Forbes' America's Most Powerful CEOs 40 and Under.
What do you consider the biggest problem facing Montgomery County today?
Our economy is stagnant. Our county leaders have created an unfriendly business environment. We've only added six net new business establishments over the last five years. Fairfax County had more than 3,000. We've added fewer than 4,000 private sector jobs over the past 15 years while our population has increased by 150,000 – that's one job for every 38 people. It is no wonder that 200,000 of our residents commute to places like DC and Virginia each morning for work. I am concerned that many of our young residents leave for college and then don't come back – they are finding better employment and more affordable living elsewhere. There's no greater urgency facing our county right now than our economy. I'm the only candidate to have put forth a comprehensive Jobs and Economic Plan to address this challenge. The plan was born out of discussions with hundreds of employers, government officials, community groups and residents; best practices from around the country; as well as my own business experiences with one goal in mind: to identify the best ideas to move Montgomery County forward.
What is your dream accomplishment for the County?
We need an education system that works for everyone and responds to the changing needs of our growing county. As our student population continues to expand, new resources are needed to ensure every student can succeed in the classroom. My dream accomplishment is to expand our school funding to:
Provide high-quality, pre-K programs in all Montgomery County schools;
Reduce classroom sizes;
Build new schools or modernize existing ones so our kids do not have to learn in portables;
Ensure 100% of our high school graduates are college- or career-ready;
Close the achievement gap through early education initiatives for 0-3-year old's; and
Invest in after school and summer programs for our students.
I'll work on creative solutions to increase funding for schools such as establishing a private foundation to supplement public investment; and team up with local colleges and business leaders for mentorship and support programs to ensure all children have a fair chance to excel.
Is there anything else you think voters should know about you when deciding who to vote for?
Last year, my wife Mikel and I opened Badlands Playspace, an innovative education center in Rockville where families can come together to play and learn. My wife and I are also philanthropists and actively support various local organizations aiming to end poverty and homelessness, promote healthy living, empower children with disabilities and provide quality early childhood education.

We have great passion for our county and take pride in the work that we do. If elected County Executive, I'll work hard to build the diverse, high-performing, job-growing county that we all want and deserve.
For more information visit BlairForMontgomery.com