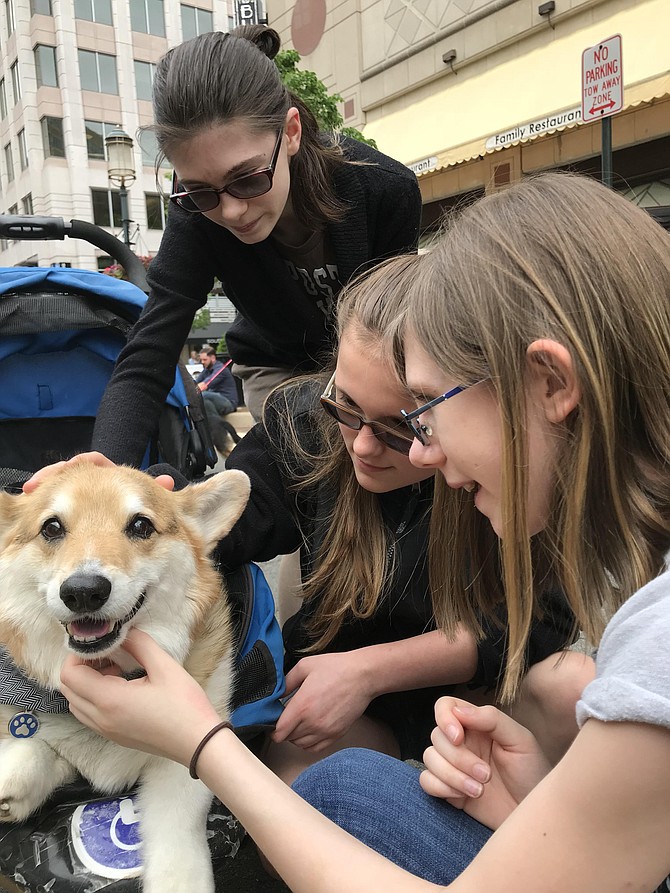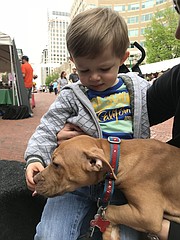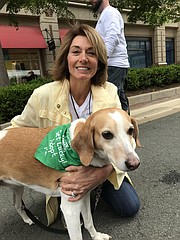 It was all about the dogs at Pet Fiesta, an outdoor festival held at Reston Town Center on May 5. Presented by and benefiting GoodDogz.org, the event brought together local businesses, animal rescue groups, pet lovers and pet owners for a full day of interactive activities, exhibitions and animals everywhere.
The Harrell family was one of the reported 1,000 people who attended the daylong event. Arriving shortly after the 10 a.m. opening, they had plenty of time to browse the many pet adoption tents and become acquainted with adoption processes. "We're not looking today," said Sarah Harrell. She watched as her 22 month-old son, Brayden bent down to pet one of the pups at Bobbie's Pit Bull Rescue & Sanctuary, Inc. "But definitely in the future."
Franceen Kahng of Clifton said Bobbie's Pit Bull Rescue & Sanctuary, Inc. is a 501(c) organization. Its mission, Kahng said, "Is to rehome bully breed dogs responsibly." She explained the organization is both a rescue and a sanctuary. "Some dogs will spend the rest of their lives with us because of issues such as health..."
"We offer assistance to low-income families or homeless individuals by providing medical care, spay, neuter, vaccination, preventatives and pet food," Kahng said.
Another adoption agency present at Pet Fiesta was Lucky Dog Animal Rescue. While volunteers walked the organization's dogs up and down the festival venue, Mirah Horowitz, Executive Director spoke about their cause. "Lucky Dog Animal Rescue is a volunteer-powered non-profit. We receive dogs and cats from under-resourced areas where we serve as their only hope. All of the dogs here today would have been euthanized if not for us. Instead, they will all find loving families, possibly families here today."
At noon, Bow Wow Designs hosted the ever popular, "Dog House of Style Fashion Show." Strutting the catwalk and wearing the latest in canine couture, rescue dogs who were up for adoption showed off how great they were.
Along with all the fun for pets, the festival also offered face painting and caricature portraits. Pets may be a hard act to follow, yet South Bay Band out of Reston was on hand to perform a blend of modern country, classic rock and blues music.
For more information about Pet Fiesta and the many pet adoption opportunities, visit petfiesta.org.