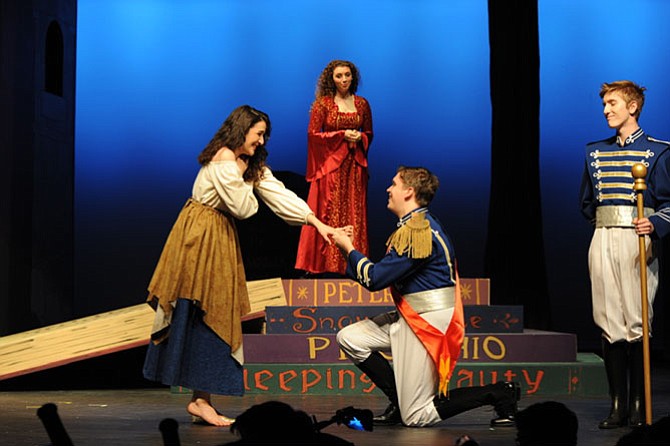 Come have your "Moments in the Woods" with West Springfield High School's sparkling cast of Sondheim's classic musical "Into the Woods." Lapine and Sondheim's "Into the Woods" has been enchanting audiences since the 1987 Broadway premiere, which won three Tony awards, and has continued its legacy through revivals, tours, and high school performances such as this around the country. The stories seen in the show are based off of the Grimms Brothers' fairy tales, such as Rapunzel, Jack and the Beanstalk, Cinderella, Little Red Riding Hood, etc. Though Disney may have took the road to the happy ending with their adaptations of some of these stories, Lapine and Sondheim put their own twist on the characters' fates as their seeming separate stories become intertwined. "Into the Woods" teaches audiences the tough lesson that they should be careful what they wish for, and understand the consequences that arise when they get that wish. Even though they give the audience a lot to swallow with that recurring theme, the iconic Broadway duo breathe a playful air into the characters and makes it a delightful experience for theatregoers.
Stephen Perkins and Eila Nash were playful and realistic as the Baker and Baker's Wife; two difficult roles, as they move the story along while handling Sondheim's infamously difficult lyrics and entrancing the audience. Both Perkins and Nash were consistently engaging (Nash in her number "Moments in the Woods" is a great example) and had such a natural dynamic with each other. Another dynamic duo were the two princes, played by Brooks Todd and Brenden Blackwell, who were engaged in a hilarious rivalry but also were able to show the brotherly love underneath it all. Brandon LaBarge stole the audience's hearts as the sweet ("and occasionally vague") Jack, along with his equally as loveable cow Milky White (Madeline Howard). The pair's charisma lit up the stage and touched all of those in the audience.
One of the factors that helped the production be as whimsical as it was, was the set design. Giant books with the fairy tales on them turned into set pieces with a simple 90 degree turn, leaves dropped from the ceiling as the setting changed, and pages of storybooks became ramps for the characters to travel across. The set was an incredible use of the stage; it was simple enough not to cause distraction from the actors, but big enough to provide a sense of fantasy. With the help of gorgeous lighting and a pit orchestra that successfully tackled the behemoth that is the "Into the Woods" score, the tech crew and musicians transported the audience directly into the land of witches and giants.