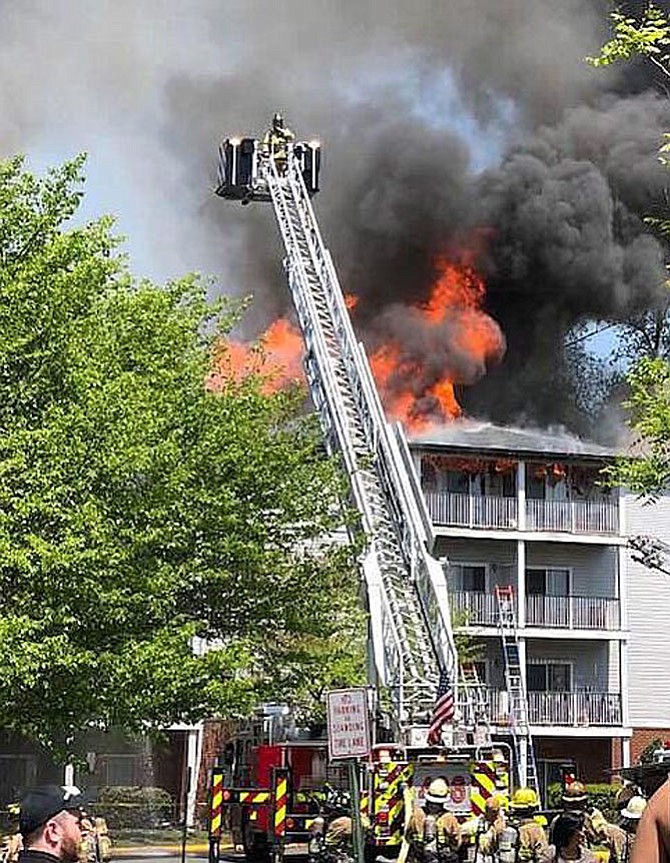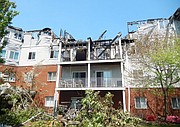 Safe Cigarette Disposal
The Fairfax County Fire and Rescue Department reminds smokers to never dispose of cigarette butts in potted, planting soil. When it gets too dry, the soil can become highly flammable. Never flick cigarettes into mulch or shrubbery; dispose of them in a suitable ashtray or bucket with sand. Ensure designated outside smoking areas have an appropriate fireproof container, ashtray or bucket. And completely douse butts and ashes with water before throwing them away, as they can smolder and cause a fire.
A fire last Wednesday at the Forest Glen Senior Apartments in Centreville ravaged 75 units, displaced 125 residents and caused an estimated $10,128,475 damage. Fire officials say the cause was an improperly discarded cigarette.
On May 2, around 12:46 p.m., units from Fairfax County Fire and Rescue were dispatched to the four-story Forest Glen complex on Woodmere Court in the Sully Station II community. Upon arrival, they discovered significant fire showing from a third-floor balcony and extending to the fourth floor and attic area.
Firefighters helped several occupants escape the building while initiating efforts to extinguish the fire. A second alarm was immediately struck, bringing units from the City of Fairfax Fire Department, Loudoun County and Prince William County Fire and Rescue, and the Washington Metropolitan Airports Authority Fire and Rescue Department.
"We've never had a day like yesterday — so many fires at once," said Fairfax County Battalion Chief Willie Bailey, standing in front of Forest Glen on Thursday afternoon, "And yesterday was Murphy's Law – the first hot day [temperatures in the 90s] of the year."
While he watched, a fire engine from Station 15 in Chantilly drove away. "One lady needed her medication to keep her alive, so the firefighters went in today to get it," he said. Bailey said the fire began after someone improperly disposed of smoking materials on a third-floor balcony in the building at 14401 Woodmere Court.
"Fire was showing from the roof [when firefighters first reached the scene]," he said. "It took about two hours to put out because of the size of the fire. This was bigger than all those townhouses put together. Some of those apartments are totaled."
From Forest Glen's central courtyard on Thursday, smoke alarms could still be heard chirping from inside evacuated apartments. "Once the fire got up into the attic, it just ran the roofline," said Lt. Sean Green, a Fire Department spokesman. "It then extended up and across to all three wings of this building."
Although the fire-alarm system went off, it was delayed because the flames started on the building's exterior. However, the fire sprinkler system inside the building did activate. Worried about a potential collapse in a section of the building, firefighters had to fight the blaze from outside. Four residents were transported to local hospitals with non-life-threatening injuries.
Forest Glen is comprised of several buildings, but Green said the fire was confined to just this one — although it tore through the entire structure. "People were concerned about their pets still inside, their medication and, of course, about being displaced," he said.
Both the American Red Cross and Fairfax County's Office of Emergency Management assisted them, as well as the townhouse fire victims. And a shelter was set up inside the Cub Run REC Center in Chantilly.

Anna Cecil, her daughter Tanya and their two cats lived on the first floor of Forest Glen and returned the following day to see if they could retrieve some of their belongings. "I just hope we can get our clothing, my jewelry and meds and a mattress out of there," said Anna Cecil. "We've lived here four-and-a-half years and were just getting ready to sign our lease again; now, no way. There's a big puddle of water in the kitchen and the lights fell down from the ceiling."
Her son Wayne, with whom they're now staying, said her floors were covered with 3 inches of water from the firehoses. He guessed those apartments would have to be "completely gutted" and would "probably take more than a year to rebuild."
A Kindercare child-care center is right next to Forest Glen, and a female employee there said that, during the fire, "We were checking with the firefighters throughout the day, in case we had to evacuate. We were just glad the trees didn't catch on fire. The firefighters were awesome; they did a great job."
Also helping was Volunteer Fairfax, which is collecting gift-card donations for all the fire victims. [See "How To Help."] Westfield High theater students did likewise during their Friday-Saturday, May 4-5, productions of "The Phantom of the Opera." In addition, the Sully Station II Community Association began a Go Fund Me page for them on Facebook, in hopes of raising $25,000.