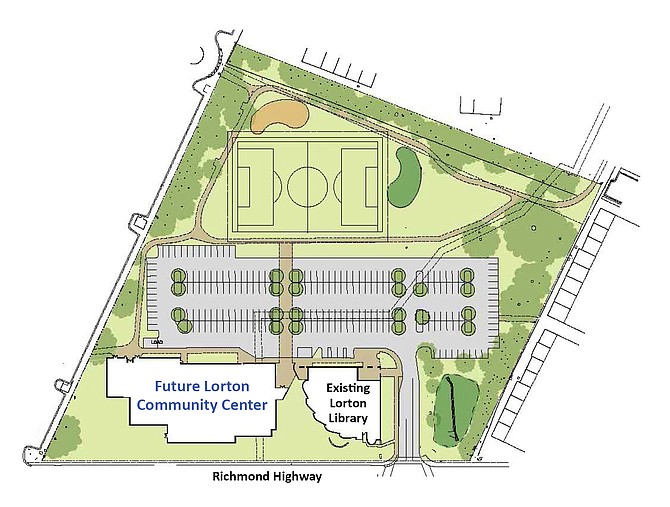 "We have kids that need things to do, the recreation center is really our opportunity to provide some for the southern part of Lorton." — Supervisor Dan Storck (D-Mt. Vernon)
Project Timeline
Summer 2017 - Spring 2019: Design/Zoning/Permits

Summer 2019: Bid the Project

Fall 2019: Begin Construction

(Anticipated) Early 2022: Occupancy
The public met with officials on Thursday, May 3, to go over plans for a new Lorton Community Center on a spot next to the existing Lorton Community Library along Richmond Highway.
The proposed community center, which will include activity rooms and meeting spaces, will bring Lorton one step closer to being a suburban community instead of farmland, rolling hills and a place that used to be associated with a Federal prison that occupied much of the land.
Supervisor Dan Storck (D-Mt. Vernon) was at the meeting and looks at the community center as a positive feature for the many school-age children and teenagers that live in Lorton.
"We have kids that need things to do, the recreation center is really our opportunity to provide some for the southern part of Lorton," Storck said.
Over the past several years, the northern section of Lorton on the western side of I-95 has gotten a new school, roads and a fire station, but there have not been many county improvements along Richmond Highway east of I-95. In the area where the recreation center will be.
Trees will have to come down and land leveled, as typical with most projects, and Storck knows this loss of open space doesn't sit well with everyone. "When they look out the window, it will be a little different," he said. But, of the 150 people at the meeting, 75 percent were in favor of the center. "This location will provide a broad array of services, programs and activities for individuals of all ages and abilities throughout these communities," read the description on the website.
Plans call for a single-story building with gymnasium with a total of approximately 30,000 square feet. The facility will include space for the Lorton Community Action Center (LCAC) as the Murphey House and trailer currently used by the LCAC will be removed from the site. When complete, the facility will also serve as the new home of the Lorton Senior Center (currently operating in leased space).