"Most of these items were grown and picked this week, if not yesterday." —Amy Poe, Lorton Farmers Market Manager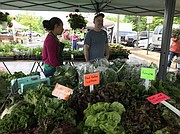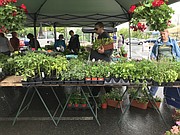 A tour through an aroma of fresh produce for the spring and summer seasons returns to Lorton for its six-month market.
Just behind the VRE parking lot, the Lorton Farmers Market has existed for more than ten years since its inception with the help of Sue Wolinsky, a nurse from West Springfield. The market entails farmers who make a two-hour trek to Lorton to set up their vendors stands Sundays from 10 a.m. to 1 p.m.
Amy Poe, a market manager from Lorton, said it's the togetherness of the community and the interactions with the people who make the food themselves that makes her most excited to volunteer each week.
"You cannot beat this market for freshness," Poe said. "Most of these items were grown and picked this week, if not yesterday."
Nancy Ochoa, a farm manager for Linda Vista Farm in Montross, Va., said her passion for the farmers market came from being the daughter of the owner.
"Every farmers market is unique," Ochoa said. "We always have regular customers who become more like friends or family, so although we don't remember them by name, we remember their faces."
Lily Gamtew, an Alexandria resident who also works for the Abyssinia Mart in Old Town, sells coffee that comes from Ethiopia. Gamtew said coffee is an integral part of her community where she grew up, and she especially enjoys sharing that culture across the world.
"Back home, it's a social event every day," Gamtew said. "Coffee has a very important role in Ethiopia. This is the main resource."
Gamtew said her coffee contains low acid, so the coffee has a better aftertaste and can be helpful for those with stomach problems. She said laughingly that this makes her coffee better than retail coffee.
Poe described a favorite customer of hers who left with multiple bags of produce, whose family receives benefits from the Supplemental Nutrition Assistance Program.
"They discovered that they can use their S.N.A.P. benefits not just in grocery stores, but here in the Fairfax County Farmers Market," Poe said. "They came and heard about our program. They redeem their benefits and get these coins. We also have a partner organization with Arcadia, which does a match up to $20."
Later in the summer, the Lorton market with show various events including chef demonstrations, a farmers market week celebration with activities for children, and master gardeners who offer advice for gardeners.