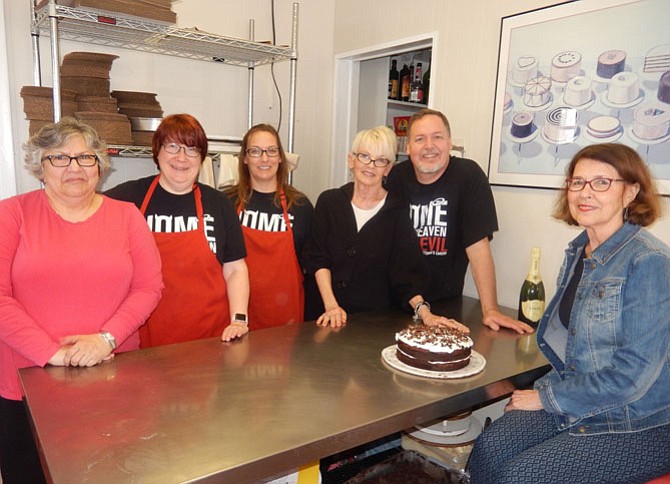 It's quite an achievement to work 30 years for one employer, but Linda Campbell has done just that at Victoria's Cakery in Fairfax. So in celebration, her co-workers feted her March 23 with a surprise luncheon and, of course, cake.
"They have a great staff; everybody gets along, with no drama," she said. "Everyone who works here becomes like part of a family."
When she first started there in 1988, just three people were involved – founder Victoria Eustice, Melva Mazor and Campbell. "They did the baking and I did everything else," said Campbell. "I even washed the dishes. I was the clerk; I answered phones, waited on customers, wrote on cakes and did basic office work – bookkeeping and payroll."
As the business grew, it got too much for her to do all those things, so more people were hired to be clerks and do cleanup. "But it's still a mom-and-pop business," said Campbell. "I concentrate on the office part."
Eustice started the bakery in her Fairfax home, 34 years ago, and Campbell was her next-door neighbor. Four years later, Eustice asked her if she could work four hours a day. A month later, it became full time; but for the past 11 years, she's been part-time.
Once the business moved to Main Street, said Campbell, "At first, we were in a little room now used for prep work. Then about 20 years ago, we expanded into the front portion of the building. All the cakes are really good – the almond pound cake is one of my favorites."
FOR HER CELEBRATION, though, the staff honored her with a special chocolate whipped-cream cake. "When I walked in, they yelled surprise," she said. Eustice's son, Mike Hensley, is the current owner and head baker, and he and Campbell both have February birthdays, so he'd invited her to come to the bakery March 23 for lunch.
"I was totally surprised," she said. "We had lunch delivered from Auld Shebeen. My co-workers were here to celebrate, and some even came in 'specially for it."
"If it wasn't for her and my son, there wouldn't be a cakery," said Eustice. "I appreciate that she's been with us through thick and thin, and she's excellent at what she does. She's very personable and caring and has just meant so much to us."
Colleague Angela Wijas, also part-time now, agrees. "She's just amazing and is actually why I work here," said Wijas, who's made the frosting and decorated the cakes since 1999. "I came in to order a cake for my daughter's confirmation and Linda helped me," she explained. "We started talking and became friends."
A year later, Wijas saw a help-wanted ad for the bakery and answered it. "When I went in, Linda told them, 'She's good people,' and they hired me," said Wijas. "She's just lovely – a fine person and enjoyable to be around."
Another co-worker, Ruthie Evers, calls Campbell "absolutely fabulous. She's generous with her knowledge and her time, and she doesn't have a mean bone in her body."
THE SHOP bakes an average of about 45 cakes a day. It has its share of walk-in customers, but most of its business comprises special orders for events such as birthdays, weddings, graduations, anniversaries and baby showers. It offers a variety of cupcakes, cookies, cookie bars and whole cakes or slices.
Happy to honor Campbell, Hensley said, "At Victoria's Cakery, family always comes first, and this is a family. Linda takes care of the books so I can concentrate on the baking. She's just great and has been a friend and a mentor to me. And since we're such a small business, every milestone is worth celebrating."
Working there, said Campbell, "You meet interesting people. Many of them work downtown here, but others come from as far as Winchester – and they all come back." As for her 30th-anniversary surprise, she said, "It's a wonderful honor – although I've always been appreciated here."