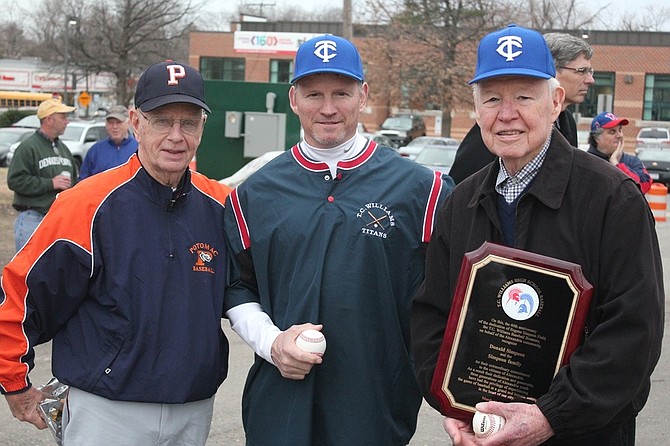 "From the Simpson baseball field to his involvement in founding the Scholarship Fund of Alexandria, he certainly gave back to our community." — Alexandria Sportsman's Club President Tom McHugh
The City of Alexandria is filled with landmarks such as the Torpedo Factory Art Center, Gadsby's Tavern, City Hall, the George Washington Masonic Memorial and Inova Alexandria Hospital. One name links these iconic restoration and development projects: Donald Simpson Sr.
Simpson also served as a benefactor to many nonprofit organizations, particularly those focused on helping the youth of the city. On May 14, the lifelong Alexandria businessman and philanthropist died at his home at the age of 87.
"Don Simpson's involvement with the youth of Alexandria is significant," said Alexandria Sportsman's Club President Tom McHugh. "From the Simpson baseball field to his involvement in founding the Scholarship Fund of Alexandria to help send T.C. Williams students to college, he certainly gave back to our community."
Donald Fletcher Simpson Sr. was a second generation Alexandrian. The son of Clarence and Dorothy Simpson, he graduated from George Washington High School and went on to attend Virginia Polytechnic Institute and State University.
Following his time in Blacksburg, Simpson served two years as a Second Lieutenant in the United States Army during the Korean conflict. Upon returning home from duty, he began a development career that would span 65 years, leading the construction of more than 300 projects throughout Northern Virginia and the Washington Metropolitan region.
Simpson began his career working with his father and uncle in the family business: Eugene Simpson & Brother, Inc. After the firm's acquisition, Simpson left the contracting business to start Simpson Development Co., Inc., a full service real estate development firm. Since its inception, he served as chairman of the firm's development and leasing activities.
Notable development projects led by Simpson include Quantico Marine Base, Historic Christ Church, the Tysons Sheraton Hotel and the Mark Plaza Hotel. More recently was the construction of the Lexus of Alexandria and Lindsay Chevrolet car dealerships.
Additionally, Simpson's company installed the girls softball team's batting cages at Witter Fields, the scoreboard at Eugene Simpson Field, the locker rooms at Hammond Middle School, and the scoreboard, goal posts and press box at T.C.'s Parker Gray Stadium.
"Donald Simpson and his family essentially built a stadium for the establishment of the Alexandria Little League baseball program in 1952," said former Little League player and coach Jerry File. "The following year he built Simpson Stadium for the establishment of the Junior Major League, both of which continue today. Prior to that the only organized baseball for youngsters was provided by the Recreation Department which did not have sufficient funding to provide uniforms, more than one coach, and was played on unattended playground baseball fields. What dramatic change Don Simpson and his family brought to baseball in Alexandria. As a participant and later a coach, I truly appreciated his generosity."
Simpson's commitment to the community was also evidenced by his involvement in an array of civic organizations. He served as a member, director or president for organizations including the Rotary Club of Alexandria, SunTrust Bank, Friendship Veterans Fire Engine Association, Goodwin House, Inc., Alexandria Salvation Army and the Alexandria Economic Development Partnership.
In 2008, the Simpson Family was awarded the First Annual Legacy of Giving Award by the ACT for Alexandria community trust. In addition to spending time with his family, Simpson enjoyed playing tennis with friends and visiting his Bay house in the Northern Neck. His quest for adventure brought him on cycling treks throughout the country and overseas and skiing trips in Colorado.
Simpson is survived by his wife of 50 years, Lynne, his sister, Sarah Fortney (Melvin), his three children, Gayle, Dorothy Ellen and Don Jr. (Stacey), and his seven grandsons: Eric and Matt Funkhouser, Chris, Austin and Davis Beveridge, and Cole and Max Simpson. He was preceded in death by his sister, Jean, and son, David.
A Celebration of Life Service will be held Thursday, May 24, from 1 to 2 p.m. at Emmanuel Episcopal Church, 1608 Russell Road, followed by a reception from 2 to 4 p.m. at Belle Haven Country Club at 6023 Fort Hunt Road. In lieu of flowers, donations may be made to Capital Caring, 5845 Richmond Highway, Suite 150, Alexandria, VA 22303, or Goodwin House Alexandria, 4800 Fillmore Avenue, Alexandria, VA 22311.