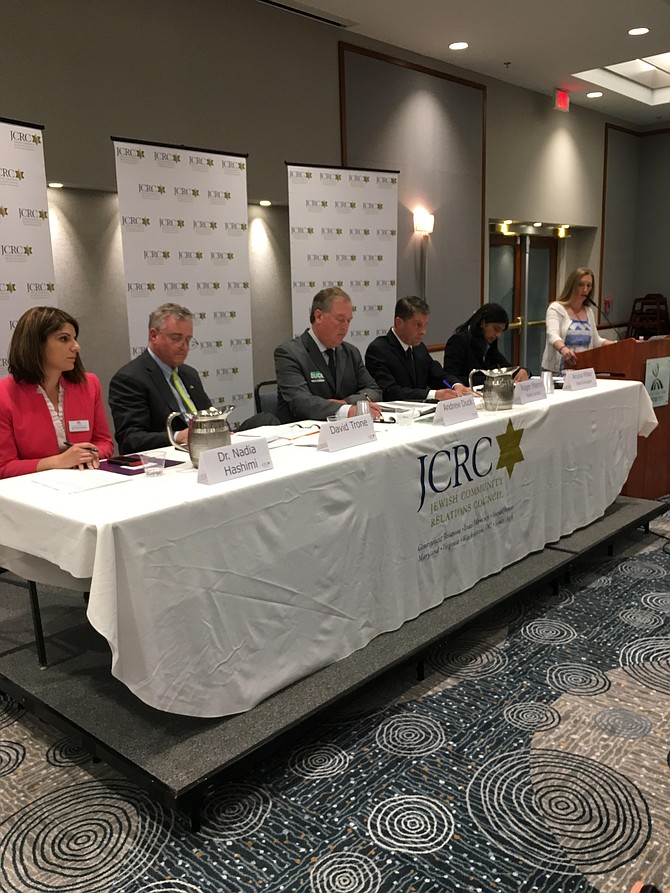 "The invitations went out in January before he was registered." — Meredith R. Weisel, Jewish Community Relations Council of Greater Washington
The candidates came, as did their campaign workers and supporters, and many Potomac residents interested in hearing what they had to say about representing Maryland's 6th Congressional District. Many attendees did not know a showdown involving more than political issues was brewing.
It was a Democratic candidate forum sponsored by the Jewish Community Relations Council of Greater Washington (JCRC) at Congregation Har Shalom on Falls Road Tuesday, May 22.
The possible problem was outlined in a press release from the office of candidate Chris Hearsey:
"I'm writing to you to let you know that the Jewish Community Relations Council of Greater Washington is holding a debate for some of the Democratic candidates tonight. Chris was not invited to attend as a qualified candidate," wrote Hearsey's Campaign coordinator Daniel Kong.
"After some correspondence with the coordinator for the event and pointing out that Chris is a qualified candidate, we were given few reasons why they are barring Chris from speaking. The JCRC informed the campaign that invitations to the debate were sent out in early January, a full two months before the deadline to register as a Congressional candidate with the state. Chris filed in January.
"Chris registered with the FEC as a candidate at the same time as Nadia Hashimi and has raised more and invested more funds than Andrew Duck. Both these candidates were invited to speak over Chris.
"We've resolved that if Chris is not allowed to join the debate, he will attend and make his voice heard regardless. Chris will mount the stage as the debate begins and inform the audience of his candidacy. It's likely that Chris will be removed from the debate; if so, our staff and volunteers will hold a rally outside. We've contacted all the local media and are attempting to get as much coverage for the event as possible.
"Our message is this: Denying the people of western Maryland the opportunity to hear an independent Democratic voice that is not seeking to buy the election or beholden to special interests is unfair. Chris needs your support!"
Meredith R. Weisel, from JCRC, said she was aware of Hearsey's disappointment at not being invited to participate in the debate, but she said, "the invitations went out in January before he was registered."
She did not offer an explanation as to why there were no additional invitations after other candidates registered in February.
"We are a nonprofit and we do not have to invite all the candidates," she said.
Hearsey registered as a candidate with the State of Maryland on Jan. 25 according to the state's website.
The invited candidates, Andrew Duck, Nadia Hashimi, Roger Manno, Aruna Miller and David Trone, all registered earlier than Jan. 25. Two other candidates, not just Hearsey, were also left out of last Tuesday's forum. They are George English, who registered Feb. 22, and Chris Graves, registered Feb. 27.
Could there have been an exception when Hearsey wanted to be included?
"It really doesn't matter [why he wasn't invited]. I'm a qualified candidate," Hearsey said outside Congregation Har Shalom Tuesday as people were arriving for the forum. "It's robbing people of a choice."
Hearsey said he had attempted to go inside but was stopped by police.
"We have been told that Chris is not allowed inside or on the property," Kong said.
Trone greeted Hearsey as he arrived.
"To be crystal clear, everybody should be welcomed always," Trone said.
Soon the crowds moved inside, and the forum began with Weisel as moderator.
Hearsey never tried to enter and mount the stage — there wasn't one — and after the debate was over, all the supporters from outside were gone.