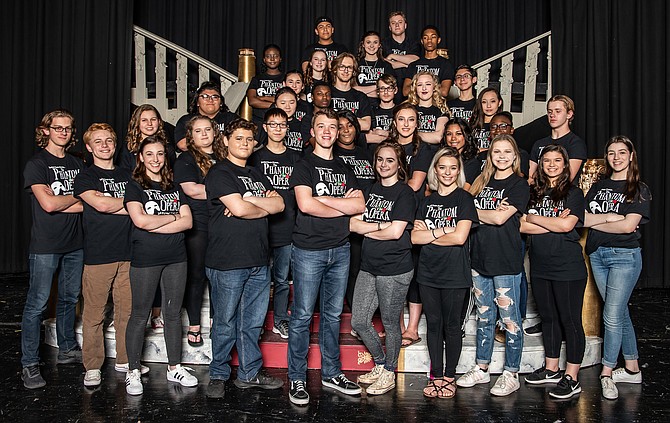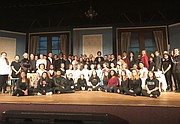 The 2018 Cappies Awards Gala is Sunday, June 10, at 7 p.m. at The Kennedy Center in Washington, D.C., and both Westfield and Chantilly High will be well-represented. That's because Westfield's musical, "The Phantom of the Opera," captured 13 Cappies nominations, and Chantilly's play, "Pride and Prejudice," received three nominations.
Westfield was honored for: Rising Critic: Grace Jenkins, Julia Tucker and Sarah Bourgeois (individual nominations); Graduating Critic: Diana Witt and Anna Krelovich (individual nominations); Special Effects and/or Technology: Ray Panzer; Hair and Make-up: Kaili Fox; Sound: Nic Swanson, Vicky Thomas; Orchestra: The Don Juannabes; Female vocalist: Molly Van Trees; Male vocalist: John Henry Stamper; Critic Team and Musical.
Chantilly was recognized for Costumes; Stage management and crew: Valerie Mellard and stage crew; and Comic Actress in a Play: Annie Silva. And both Westfield and Chantilly's theater directors are delighted with the Cappies nods their schools garnered.
"I am incredibly excited for all of the nominations 'The Phantom of the Opera' received," said Westfield Director Rachel Harrington. "The show turned out beautifully, and I couldn't be prouder of all my students. They took on a production that presented itself from the start as a difficult show. However, they took on those challenges and raised the bar even higher."
"I attribute all of this wonderful recognition to their hard work and talent," she continued. "And what a wonderful season for high-school theater arts. As a teacher, I beam with pride for my students, my school and the county that supports our students as they pursue their passion in theater arts."
At Chantilly, Director Shannon Khatcheressian said, "We are thrilled with our Cappies nominations. We were so proud of the show — and to see members of our cast and crew recognized for their time, commitment and talent is always welcome."
She said the school's costuming team actually consisted of more than 20 students who participated in both the costume design and construction. And, she noted, "They really learned a lot throughout the process and created some simply magnificent garments."
Khatcheressian described the show's stage manager, Valerie Mellard, as "the constant source of balance for everyone throughout our production. We had a lot of major scene changes that needed to move quickly and professionally, and we didn't want it to distract from the pacing of the story. Valerie was essential in ensuring that we all worked as a cohesive unit and supported one another."
In the acting realm, said Khatcheressian, "Annie Silva was nominated for Comedic Actress in a Play, and I was simply thrilled for her. She is such a wonderfully physical actress; she adapts quickly to character and blocking changes and really makes the character her own. And she was instrumental in providing the comedic relief in a heavier piece, such as 'Pride and Prejudice.'"