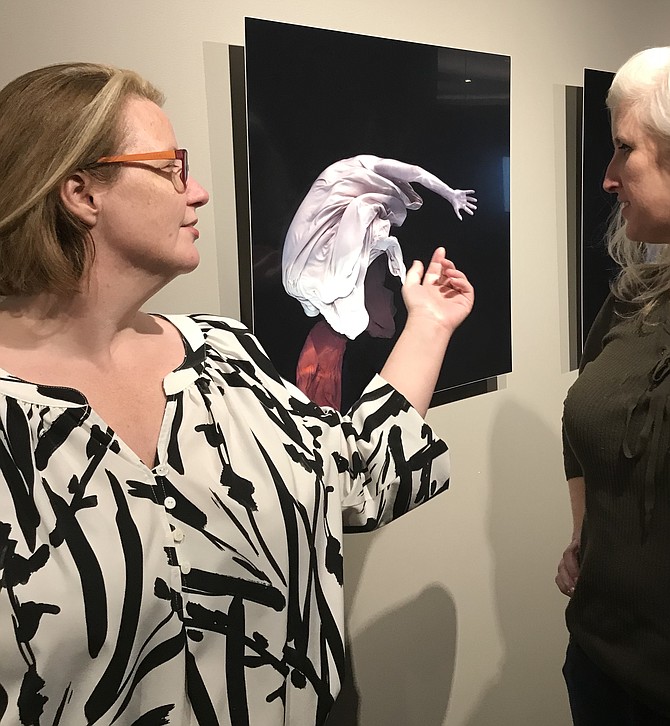 "It is a privilege to be able to bring Rahshia Sawyer's stunning underwater photography into the unique space of Greater Reston Arts Center at Signature," said Erica Harrison, associate curator and festival director at GRACE. Sawyer's exhibit is housed in GRACE's innovative satellite gallery located off the main lobby of the Signature, a luxury residential apartment building in Reston Town Center at 11850 Freedom Drive, Reston.
The internationally and nationally acclaimed conceptual photographer presented her newest body of work, "Invisible Listeners." GRACE's curatorial staff selected Sawyer for her skilled and unusual photographic images, not what one would normally expect to see underwater such as marine life and schools of fish, but of human figures draped in gossamer silks, spiralling and swirling in the undulating fluid world.

Sawyer explained her current work, "What I Haven't Told You," as the tension between emotion expressed and emotion repressed. For her new body of work, Sawyer captured each figure underwater, fronting an infinite cosmos of black, which intensified the natural sunlight coursing through the water and radiating through the silk, accentuating fluidity and movement.
"Her ten dramatic compositions are printed on aluminum creating a liquid-like surface which enhances the luminosity of the mysterious figures draped in floating fabrics," said Harrison.
"Rahshia is another incredibly talented artist from our region," said Robert Goudie, board chair of Greater Reston Arts Center during his remarks for the Opening Reception held Oct. 25, 2018.
Among her many awards and acclamations, Sawyer received the 2012 Contemporary Talents Award from Frane's Francois Schneider Foundation and a 2016 Honorable Mention from the International Photography Awards and Prix de la Photographie (Px3). In addition, her photography is in the permanent collections of the Corcoran Gallery of Art, Francois Schneider Foundation and Radford University Museum.
"We are grateful to our partnership with Boston Properties and Balducci's, which allows us to extend our footprint with the Signature Gallery and continue to promote and advance the very best local and area artists even as our profile, reach, and content continue to grow outside our immediate region," said Goudie.
The exhibit "Invisible Listeners" runs through Jan. 8, 2019. The artwork is available for purchase. Viewing is open to the public with no admission charge.