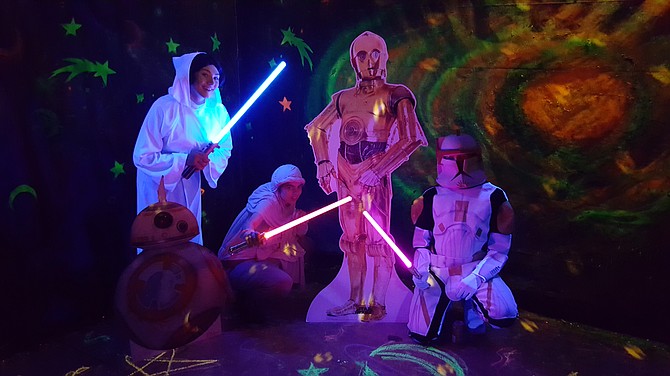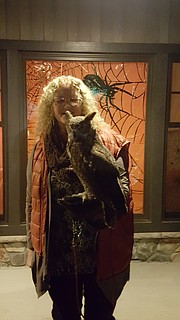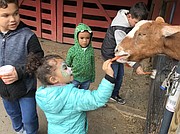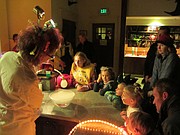 Reston became a Halloween extravaganza the weekend before the popular holiday. With a wide assortment of activities, The Connection highlights three popular family-friendly events, beginning with Reston Association's exceptional event, the "Halloween House and Trick-or-Treat Trail" at Walker Nature Center, now in its 21st year.
"We love to hear parents say how memorable our event has been for their families and how much they enjoy coming back year after year," said Katie Shaw, Nature Center manager and event director. "The Walker Nature Center's Halloween House & Trick-or-Treat Trail is a 21-year Reston tradition that continues to delight, entertain and even educate families with children ages three through twelve," Walker added.
On Friday and Saturday evenings, costumed children whose parents and guardians were lucky enough to snag tickets to the much sought after event, met wacky characters and live animals on the trails surrounding Walker Nature Center and inside the center turned Halloween House.
"Each room of the house is transformed by a different theme celebrating Halloween lore, children's literature, film and of course, nature. Patrons meet Halloween creatures like snakes, spiders and owls up close, and collect treats from characters all along an LED candlelit trail," said Shaw.
"We want people to discover nocturnal nature and not be afraid of the woods at nights or the animals that live there," Shaw said.
Boo at the Zoo by Roer's Zoofari
"We're fortunate to have local businesses support Roer's Zoofari during Boo at the Zoo," said Christopher Lizama, corporate operations manager, as local businesses sponsored trick-or-treat booths, passing out candy and showcasing their companies and services the weekend before Halloween.
Extended members of the Weaver family attended the event. "We … thought this would be fun," said Joyce Weaver as she watched her children and nephews feeding carrot sticks to the zoo animals. One last Boo at the Zoo is scheduled for Wednesday, Oct. 31, 3-6 p.m.
'THE GLOW: A Jack O' Lantern Experience
As night fell Sunday evening, the last chance to experience the display of 5,000 carved pumpkins with glowing amber eyes said Halloween to many families and individuals, and they headed off to Lake Fairfax Park, Reston for 'THE GLOW: A Jack O' Lantern Experience.'
For sixteen nights, organizers of The GLOW transformed one-third mile of county parkland trails to a jack o'lantern experience of "beautiful landscapes, iconic figures and larger than life structures composed of glowing jack o'lanterns."
"The display was wonderful, and those who attended seemed to enjoy this experience really," said Judy Pedersen, spokesperson for Fairfax County Park Authority. As a bonus, skilled carvers demonstrated their artistry and shared tips to patrons.

Hopefully, The GLOW will return next year, as many in the community did not have the opportunity to visit the park due to recent rains.