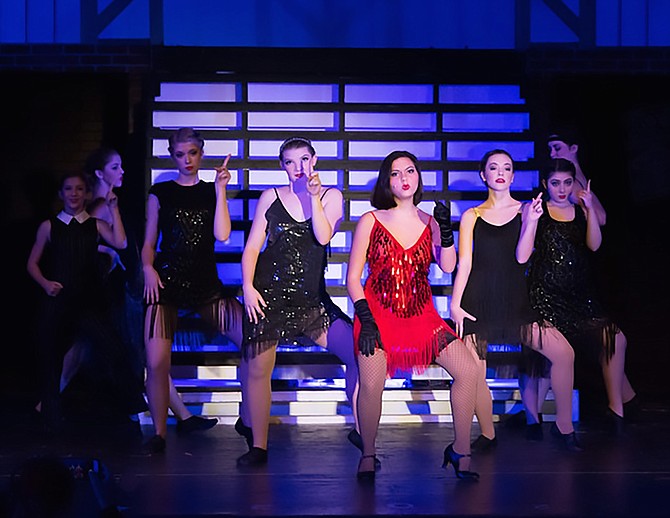 Lights, camera, "Chicago." The audience leaned forward in their seats as the curtain opened to reveal a single silhouette. From the moment the curtain opened till the cast's final bow, the audience watched with bated breath as the talented cast told a story of corruption and charm.
Combining dark slapstick humor with the show-biz and sequins of the Jazz Age, Chantilly High School's Oct. 26 production of "Chicago (High School Edition)" was a sight to behold. The classic musical was based on a 1926 play, and features a book by Fred Ebb and Bob Fosse, with music and lyrics by John Kander and Fred Ebb. The show boasts the second longest run of a show on Broadway and a best-picture winning movie adaptation.
Set in the Roaring 20's, the show tells the story of a murderess who is desperate to get acquitted. After murdering her lover, the energetic nobody Roxie Hart, played by Lauren Spiers, is transformed into a starlet who will do anything for attention. The puppeteer behind Hart's rise to fame is the silver-tongued lawyer Billy Flynn, played by Alex Yee. As Roxie gains the attention of the press and Flynn, fellow murderess Velma Kelly (Elise McCue) watches with jealousy. McCue's biting tone and bombshell personality wowed the audience as the rivalry between the two turned into a grudging partnership.
The unlikely star of the show is Roxie's husband, Amos Hart, played by Suryanshu Kommoju. His solo number, "Mr. Cellophane," charmed and amused the sympathetic audience, whose hearts were stolen by his earnest and bashful attitude.
Just as intriguing and talented as the principal characters was the sizable ensemble, who play everything from dancing murderesses to popcorn-munching jury members to smartly-dressed reporters. The student choreographers were able to showcase everyone's ability, along with a few gimmicks such as unicycling and plate spinning.
Aside from impressive performances, the production also features many brilliant technical elements. The two-story set combines art deco influences with the streets of Jazz Age Chicago, integrated with a vibrant lighting design. The lighting design also added humor to the show, as the cheeky spotlight mocks the characters in several numbers. The costume design mixed period and modern influences, with each ensemble member having a unique costume that fit seamlessly with the rest of the cast's wardrobe. Also notable was the stage management team (Valerie Mellard and Annabelle Kirkendall), whose meticulous attention to detail ensured that not a single cue was dropped.
Alluring and artistic, Chantilly High School's production of "Chicago" really was "All that Jazz."