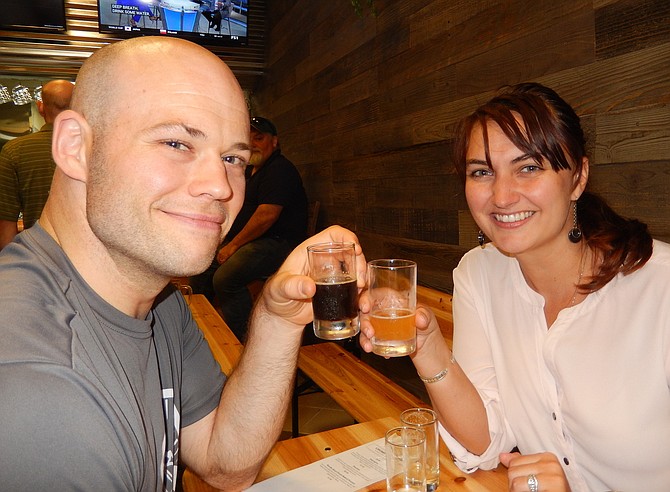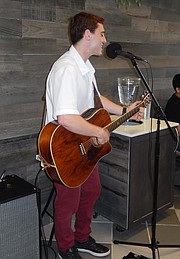 When choosing a vocation, people are often told to do what they love. Boyd Harrison took those words to heart and turned his love of beer and home brewing into a full-time career.
The result is Chubby Squirrel Brewing Co. at 10382 Willard Way in Fairfax's Courthouse Plaza. And Harrison, the head brewer and owner, couldn't be happier.
"I live here in the City and realized people had to go to Falls Church, Loudoun County or down I-95 to have a craft beer brewed in-house," he said. "So it seemed like a good fit for this community; and I wanted to do something small, with a local feel."
He'd worked in restaurants while majoring in hospitality and tourism at Virginia Tech and then did catering. He also got into home brewing and obtained a master's in tourism administration from GWU. "Having a background in food and hospitality – and having hotel-operations experience after college – it all came together with my beer making," said Harrison. "So I called [Fairfax City's Economic Development Director] Chris Bruno and asked if Fairfax had a brewery. He said no, but he wanted one in the City."
CHUBBY SQUIRREL had a soft opening June 27, and its official grand opening and ribbon cutting was Oct. 11. "This is a pull-yourself-up by your bootstraps operation," said Harrison. "We put in the time and effort to make sure everything's perfect, and we've had a very good reception and support from both the City and the community."
He said the brewery has "really begun carving out a niche in British style – dry stouts and extra-special bitters – and malty beers – our brown, big-flavor ale. But we've also expanded by adding IPAs, such as New England style and rye pale ale. You name it, we're brewing it."
Chubby Squirrel is also offering a Finnish sima – a sugar mead flavored with lemon. And this fall and winter, it will brew some Northern European beers and ales, such as its Weizenbock, a wheat ale that's a bi heavier and more malty than other ales.
"We have six fermenters on site, so we can make a wide range of beers," said Harrison. "The sky's the limit; our offerings are always changing. Especially popular are our Nut Thief Brown Ale, Black Squirrel Oatmeal Stout and Citra Pilsner. Those are the real standouts."
He said they make at least two beers a week, but offer six on draft at all times. But that's not all, Customers may also chow down on some hearty food to go with their brews. The menu includes Poutine – French fries with cheese curds and gravy, fried macaroni-and-cheese bites, and boneless wings with Buffalo, parmesan, garlic or sweet-teriyaki sauce.
"One of the most popular food items is our Old Bay Pierogies with crab dip," said Harrison. "Another big hit are our Schnitzel Sliders – King's Hawaiian Rolls with sliced pork tenderloin breaded in panko breadcrumbs and fried. In colder weather, we're adding chili; and if we open for early morning Saturday or Sunday, we'll do a Finnish, 'hangover stew' called Nakkisoppa, with root vegetables and hot dogs."
Also popular are the Nordic Knot Pretzels – French fries seasoned with sea salt, Cajun spice and truffle salt or Old Bay seasoning. Basically, said Harrison, "We serve comfort food designed to go with the beer."
There's seating inside and outside, plus plenty of parking in the lot. "We want this to be the community, neighborhood, beer hall; and so far, we've hit that goal on Wednesdays, Thursdays, Fridays and Sundays," said Harrison. "On Saturdays, we also do good business, but have more visitors passing through, in addition to the locals."
He said people like being there because "It's a friendly, relaxed, come-as-you-are, kind of place. We also get lots of young families in here, and we really take care of our neighbors because I'm a neighbor, too. We're not trying to be trendy – we just want people to get to know us, come back and appreciate that we're trying to do a good job."
Besides, added Harrison, Chubby Squirrel has good things to offer. "We make our beer here and use as much Virginia grain as possible," he said. "It's grown by Virginia farmers and malted by Murphy & Rude in Charlottesville. And our beer is made by locals."
As for the customers, they're delighted with both the brews and the place.
ON A RECENT EVENING, Heather and Jeff Waye were enjoying a beer sampler called a flight. "We both got a beer flight because we wanted to try everything," explained Heather. "My favorites are the Lemon Drop and the lightest citrus beer. They're both really crisp and refreshing and have a good flavor."
Husband Jeff liked the Nut Thief Brown Ale. "It's a really good and smooth English ale," he said. "We're really excited to have a brewery open up in Fairfax City; we're big beer fans."
And, added Heather, "We live across the street, so it's nice to have more businesses come here."
"Especially a brewery, because they're really hot and trendy right now," said Jeff. "So I think they'll do well in the community."
Fairfax's Lawrence Michael also enjoyed the Nut Thief Brown Ale. "It's well-balanced and light, but very crisp," he said. "And it also has a 7.0 alcohol content, so it's a strong beer, but light-tasting – which is rare for a dark ale."
Furthermore, he said, "This place is a great complement to the rejuvenation of Fairfax City. There are many new bars, but no breweries here, until now. This should be a big attraction to the residents and to GMU. People can either walk or drive here, and it's a welcome addition to the City."
So where did the Chubby Squirrel name come from? One day, said Harrison, "While drinking a beer with a buddy in my backyard, we saw a fat squirrel dragging itself across the grass. And I said, 'Hey, look at that chubby squirrel go!'"