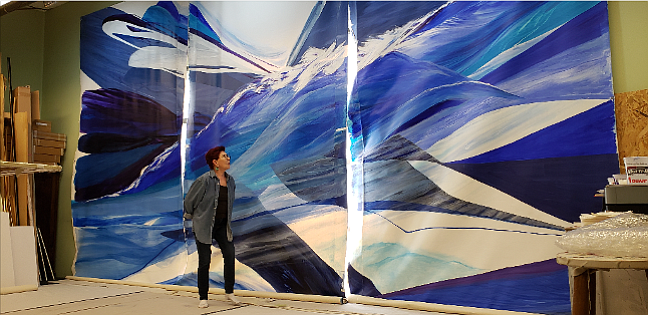 Bette Ridgeway has just completed her largest and most significant work to date. The corporate commission from The Meridian Group/Rockefeller Group/Gensler Architects measures 15' high x 21' wide – a stunning, highly visible, "poured" painting on canvas. Throughout the four decades of her artistic career, Ridgeway's artwork has been exhibited, collected, written about and lauded. Thus far, in 2018, she has enjoyed fourteen exhibitions and has been featured in fifteen global publications. Pushing the boundaries of light, color and design, Ridgeway is best known for her large-scale, luminous poured canvas — a process that she terms "layering light."
In February of 2018, Ridgeway was selected and given full artistic freedom to create the signature artwork for The Boro Building, located in the heart of The Boro, a premier, multi-phase development in Tysons Corner. This vibrant, new live/work/play town concept is being co-developed by The Meridian Group and Rockefeller Group, with design by Gensler Architects. The painting will be installed in the lobby upon completion of the building in January 2019.
For the past eight months, Ridgeway and her team of four assistants have been creating this masterwork, an engineering feat, which required constant innovation, research and development. The process of pouring on canvas is painstaking, in that each layer is poured separately. Ridgeway uses Golden Fluid paint and layers color over color to achieve a limpid suffused quality that resembles watercolor. The pouring process requires a complex setup. The large canvases are suspended on supports of varying heights, then meticulously draped and formed for each individual pour.
Until the piece was completed, only days ago, Ridgeway and her team had never seen the massive piece in its entirety. Due to the immense scale of the artwork, limitations in the work space, and the complex nature of her pouring technique, the artwork was created in sections, with parts of the canvas rolled at all times. When the entire painting was hung to view in its totality for the first time, the Ridgeway team wept.
With a strong history and connection to the D.C. metro area, Ridgeway is gratified that this work will have a permanent home in The Boro.
Ridgeway speaks on the concept behind the project, "This process touched me as our society is undergoing great and dynamic change. I believe that the outcome can be very positive as we free ourselves from the old way of thinking and being, and step into a new chapter of freedom, compassion and beauty."