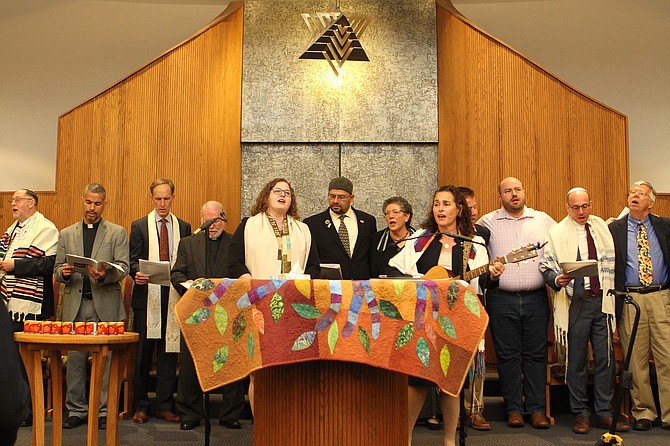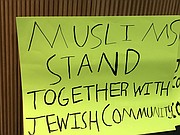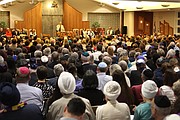 On Nov. 2, one week and one day after a man shouting anti-Semitic slurs opens fire in a rampage inside the Tree of Life synagogue in Pittsburgh, killing 11 congregants and wounding four police officers and two others, the Northern Virginia Hebrew Congregation (NVHC) in Reston posts to its Facebook page one simple sentence.
"We could not do any of this without you. Shabbat Shalom."
That evening, faith leaders, officials and members of the community came to stand with NVHC in a show of solidarity filling every seat in the synagogue and spilling into the lobby. Initially, they came to deepen connections and reflect on the tragedy together.
"We are here to support our Jewish friends," said Kathy Schmidt.
"We came with two members of our congregation," said Tom Tomacci of the Herndon Trinity Presbyterian Church. "It's the only place to be tonight. It could happen at our church, at a mosque, anywhere."

ONE BY ONE during the Shabbat, the interfaith partners and community, came forward. They stepped up on the bima to participate in the service and read:


"A brute cannot know, a fool cannot understand this. The righteous bloom like a date-palm." Psalm 92
—Reverend Tom Berlin, Floris United Methodist Church;


"There is no way to get from here to there except by joining hands, marching together."
—Fairfax Supervisor Cathy Hudgins, member of St. Thomas à Becket Catholic Church;


"Strengthen the bonds of friendship among all the inhabitants of every land." Shalom Peace
—Rizwan Jaka, past president ADAMS Center;


"Grant our leaders wisdom and forbearance. May they govern with justice and compassion."
—A Prayer for Our Country by Reverend Stephen Smith-Cobbs, Trinity Presbyterian Church.


Rabbi Michael Holzman of NVHC recounted the many acts of kindness the congregation received. He said they needed the support, the comfort from all faiths and peoples. "We need the note from Ibrahim Moiz taped to our front door Saturday afternoon that reads, 'Dear Neighbors: truly sorry for the hateful, cowardly acts of the terrorist in Pittsburgh.' We need Rizwan Jaka from ADAMS who came here Sunday, and Cathy Hudgins who came from St. Thomas à Becket, and all the text messages and calls and emails we immediately received from Rev. Berlin of Floris United Methodist, and Revs. Smith Cobbs and Messman of Trinity Presbyterian, and Rev. Haffner from UUCR," naming them on and on and on.
Holzman said, "All week I have listened to calls to heal our politics, and over and over I hear about the need for civility. Well, civility is not enough... when the Internet amplifies fantasy and radicalizes the population … when parties and politicians abandon civic responsibility in the pursuit of power ... (And) when we do not have the courage ... to discuss ideas out in the open. Civility is wonderful, but it is not enough."
Society needs to be retrained in how to listen, how to disagree and how to compromise, said Holzman. "Today politics is a dirty word," he said. "Our politics is broken for the same reason our country is so obsessed with immigrants. Because we have forgotten how to disagree. … Politics is how we disagree without killing each other."
HOLZMAN urged those present to get the vote out and "find people who have given up on democracy and remind them that their vote has power and power restores hope."
He explained the shooter tried to kill Jews because "he was like so many others whose entire worldview depends upon an absolute certainty that outsiders are dangerous." Faith communities are in a rare position to become incubators of democracy and academies of citizenship, Holtzman said.
While those present that evening brought the much-needed healing, there was something greater, he said. "You affirm a vision of America that brings Muslims, Jews and Christians, Whites and Blacks, native-born and immigrant, gay and straight, all of us together as human beings and as Americans.
"We need you in this room. Doing Jewish stuff with us. Stumbling over the Hebrew. Wondering why the book goes backward. Meeting strangers. Because, with your presence, not only do you reject the hatred of Jews, you reject the hatred of closed doors. We want you here with us because this is how we reject the fundamentalist worldview of closed doors and closed minds. This is how we hold fast to the Tree of Life."