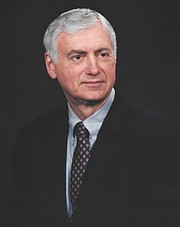 David Alan (Dave) Roe, of Reston, died Nov. 3, 2018, at the Adler Center for Caring in Aldie, Va.
He was a kind, hard-working, brave, loving and generous man, who always put the needs of others before his own.
Dave graduated from Northwestern University in 1958 with a BA in Journalism, earning his MA at the same institution in 1959. He had a successful career in newspaper and magazine operations and publishing at Pioneer Press, The Washington Post, the American Press Institute and the US Chamber of Commerce. Dave was VP, Publishing at the Chamber 1980-1997. There he led a successful redesign and relaunch of Nation's Business, a highly regarded monthly, small business magazine.
Dave was a loving, caring husband, father, brother and uncle, marrying his spouse, Judy, 1961 and raising three sons together. Together, they inspired their family members to work hard in the pursuit of their dreams, and to always give every person an equal opportunity to thrive and succeed.
Dave played an active role in his children's and grandchildren's athletic pursuits, coaching soccer, baseball and basketball teams and also serving as commissioner of the Reston youth basketball league. He was an avid golfer and relished the opportunity to play with his sons.
An insatiable interest in news, current events and history was at the core of all of Dave's pursuits. He read several daily newspapers and weekly news magazines and devoured historical non-fiction books and biographies. Through this passion for learning, Dave developed a deep historical knowledge base that he enjoyed sharing with family and friends.
Dave is survived by: his wife, Judith Roe; his sons and daughters-in-law, Kevin and Dina Bennet Roe (Dripping Springs, Texas), Mark and Joana D'Arc Roe (Ashburn, Va.) and Matthew and Laura Moore Roe (Chapel Hill, N.C.); his sister, Mary Ellen Palm (Kenosha, Wis.); and his grandchildren and their respective spouses: Joana and Paul Obering (Leesburg, Va.); Juliana Roe (Ashburn, Va.); Tyler, Dylan and Heidi Roe (Chapel Hill, N.C).; and Spencer and Nathaniel Roe (Austin, Texas).
The family asks that any charitable donations made in Dave's memory be directed to Friends of the Fairfax County Animal Shelter and Doctors Without Borders. The family will conduct a private memorial service.