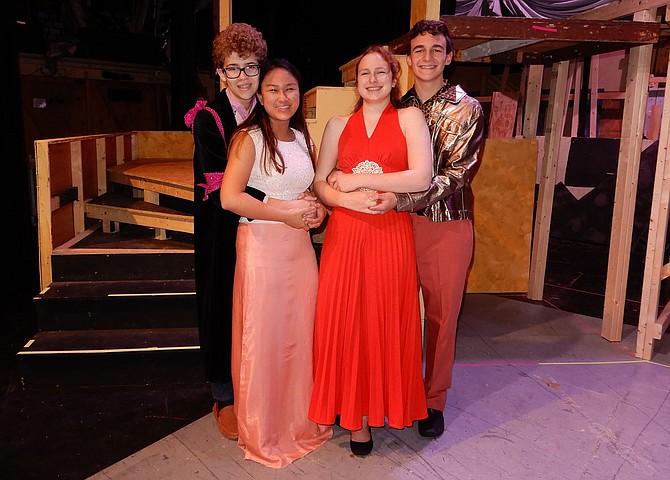 William Shakespeare said, "The course of true love never did run smooth," and that certainly is the case in his comedy, "Much Ado about Nothing." It's also Paul VI High's upcoming play.
The curtain rises Thursday-Saturday, Nov. 15, 16, 17, at 7 p.m., and Sunday, Nov. 18, at 2 p.m. Tickets are $10, adults; and $5, students and senior citizens; at the door or via pviproducers@gmail.com.
Featuring a cast and crew of about 60, the show is set in Italy – specifically, Messina in Sicily. The time period is modern-day, but with Shakespearean language, and the story centers on two couples. Beatrice and Benedick are past lovers who broke up badly; meanwhile, Hero and Claudio have fallen in love and are about to marry.
"But a serious misunderstanding causes Claudio to call off the wedding," said Director Kathy d'Alelio. "And friends of Beatrice and Benedick scheme to get them back together. Will the two couples reunite? People will have to come see the play to find out.
"I love Shakespeare, so I like exposing my students to him – and his stories are so universal," she said. "His language is challenging, so the actors first had to interpret and understand it so they'd know what they're saying. Then they got into their character work, and every one of them is rising to the challenge. My leads are doing an exceptional amount of work, but they're all dedicated and committed."
THE SET will depict an Italian villa, with three archways and a balcony. And the costumes will be modern clothing. D'Alelio said audiences will see how Shakespeare's themes are approachable and applicable to everyone. "People will be able to relate to the different problems and situations the couples encounter," she said. "And they'll just enjoy the fun."
Senior Maddie Mangilit portrays Hero. "She's a typical, sweet, innocent girl who doesn't do anything wrong or say a bad word about anyone," said Mangilit. "But she's spineless and doesn't really know how to defend herself against false rumors that she cheated on Claudio, so she's like a damsel in distress."
Mangilit likes her role because, she said, "I can relate to Hero's kindness, but I find myself internally urging her to say something. And I love her relationship with Beatrice because Emma Hitchcock, who plays her, is one of my best friends in real life."
Calling "Much Ado about Nothing" the most easily understandable of Shakespeare's plays, Mangilit said, "The plot is so ridiculous that the audience will find it terribly funny. And the set – with its experimentation with layers – is phenomenal. It's complex, yet still minimal and fun to play on."
Playing Claudio is sophomore Jak Ketron. "He's just come back from war and is all bravado," said Ketron. "Then he sees Hero and just falls head over heels in love. He does things he never saw himself doing before – making eyes at someone and daydreaming about her. He has a strong, moral compass, but is extremely gullible. So when he hears something bad about Hero, he believes it."
Ketron also loves his role. "It's fun to play a character who has such an interesting past as a soldier, yet is now a love interest," he said. "And during the play, he switches back and forth between the two personas."
As for the show, Ketron said, "The set is just beautiful, and the story has so many twists and turns that the audience will never see what's coming. And they'll have an amazing time. There's so much to look at and listen to, as the story unfolds."
Sophomore Adam Hill portrays Benedick. "He's a funny, charming, charismatic, ladies' man," said Hill. "He's likable, talkative, brutally honest and very social and outgoing. He's also brave; he's a soldier and Claudio's best friend."
Hill likes his character's attitude about everything. "Benedick doesn't take things seriously unless he has to," explained Hill. "He's looking for a good time. And it's exciting playing a lead. It's a lot of work, but I'm enjoying it and performing with everyone in the cast."
He said the audience will like the costumes because "they're bright and colorful, but don't detract from the actors. They'll also appreciate the chemistry, especially between the show's male characters. And the story is both suspenseful and funny, with a happy ending."
PLAYING BEATRICE is senior Emma Hitchcock. "She's a very quick-tempered, fiery sentimentalist," said Hitchcock. "Benedick already broke her heart once and she doesn't want to be burned again. So she puts up fortress walls of sarcasm and mean-spirited humor to push people away, in general, but especially Benedick. She loves trying to make him feel bad about himself. She has a sister-like bond with her cousin Hero and is super-protective of her. Beatrice is brash and loud, but Hero is quieter, so they balance each other out."
Hitchcock, too, enjoys her part. "Beatrice is surprising," she explained. "You expect her to be all bark and no feeling. But she has layers and is a complicated character. She's the most complicated of Shakespeare's female characters that I've read. She's been around the block a few times and isn't afraid to demand what she wants, even if it'll hurt other people. She's that way because she's been hurt before and doesn't want it to happen again."
Hitchcock says the audience will love the show because "The humor is universal, as is the story of two former lovers falling in love again. It's like the first rom-com."