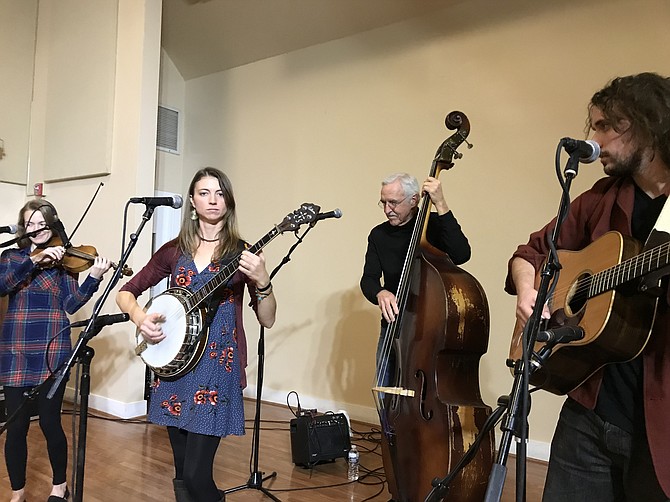 The Fairfax County Park Authority and the Friends of Frying Pan Park created the perfect marriage of musical genre and venue when they produced The Bluegrass Barn Series in the park's renovated historic dairy barn at 2739 West Ox Road, Herndon. "The nice thing about the venue and genre of music is they have a shared history," said Yvonne Johnson, manager at Frying Pan Farm Park, before the start of the Sunday, Nov. 4 concert by "The Gina Furtado Project."
Beside her stood Volunteer Artistic Director Steve Johnson. Johnson is in charge of locating the best music possible to go with the outstanding venue. He explained that the barn's period of significance overlaps that of the DC area's vibrant bluegrass scene during and after the war years of the 1940s when workers from southern and mountain regions migrated to the region to support the war efforts. They brought with them their music and talents which influenced the bluegrass' early heritage. "A mix of Scotts Irish string band music and American Blues," Johnson said.
Delores and Pat Heidenthal of Ashburn sat inside the performance space before the concert eating BBQ and slices of homemade desserts available on site along with beer and wine. "The food is homemade, and it tastes so good, " said Pat. "I got a second piece of cake, and the BBQ needs no sauce." Asked why they came to the concert, Delores replied, "We like Gina who plays with the band 'Chris Jones and the Night Drivers,' and we heard her solo album 'True Colors.'"
At 7, acclaimed singer-songwriter Gina Furtado, a nominee for the International Bluegrass Music Association (IBMA) Banjo player of the year and titled "absurdly talented banjoist" by "Bluegrass Today" stepped to the stage along with the other members of the "The Gina Furtado Project," her younger sister, Malia on fiddle, Marshall Wilborn on bass and Corey Wells on guitar. Gina performed her innovative contemporary twist to banjo playing accompanied by the other musicians who showed off their instrumental virtuosity. The audience applauded wildly. "It was a great audience to play for. They were so attentive and clearly loved the music and are supporters of LIVE music," said Furtado.
Given the venue's easy accessibility from the Silver Line Wiehle-Reston East Metro Station via a 10-minute ride-hailing service, the regional bluegrass community can plan to attend any of the select Sunday performances now through April. For more information, check the website www.fairfaxcounty.gov/parks/frying-pan-park/bluegrass-barn.