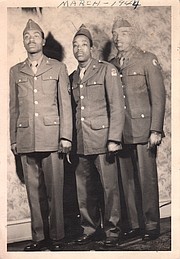 It was Dec. 7, 1941, when the Japanese bombed the American fleet in Pearl Harbor, Hawaii; as a result of this attack, the United States declared War. Three brothers immediately knew they were going to enlist in the Army to protect their county.
Henry Oliver Burke, Robert "Tip" Landon Burke, and Harry Sylvester Burke, all brothers from Alexandria, enlisted in the Army in 1942 and in 1943. Henry was the oldest of the three brothers. He was working in Washington, D.C., for Rothstein Dental Works on I (Eye) Street, NW when Pearl Harbor was bombed. He enlisted in the Army nine months before his 21st birthday and two months after the Pearl Harbor incident. His brother, Tip, also enlisted in 1942. Both men were sent off to basic training in the colored troop. In May of 1943, Henry and Tip were shipped overseas. Henry was sent to Germany and Tip was sent to the South Pacific.
Henry was engaged in one of the well-known battles, "Battle of the Bulge." He was assigned to the communication team, where he was responsible for putting up communication lines. During his time in Germany, he and his troop were attacked, and they found refuge in a Catholic Church. That experience changed Henry; he converted to Catholicism.
Harry S. Burke, who was the youngest brother, enlisted in the Army on Dec. 8, 1943. He was 18. Harry was sent to France and later to the South Pacific. After the Battle of Bulge, all three brothers were reunited in France. They had not seen each other for a couple of years. Henry was the first to return home. After he left France, he was sent to the Philippines, where he contracted malaria. On Jan. 2, 1946, Henry O. Burke sailed from the Philippines aboard the Duchess Ship to San Francisco, Calif.
Within a couple of years, all three men had returned home with an honorable discharge from the U.S. Army. They returned home to their widowed mother, who lived at 1002 Oronoco St. Their father had died on Jan. 6, 1945 while they were serving their country.
Rosier and Hollie Harris Burke were the parents of Henry, Robert and Harry Burke. Henry O. Burke married Frances T. Watson. After his military career, he worked for the Federal government where he retired. On Dec. 3, 1980 Henry died. He had a Catholic funeral service. He and his wife had one daughter.
Robert "Tip" Landon Burke married Shirley P. Harris. Like his brother, Henry, he worked for the Federal government and retired. On Sept. 17, 2006 Tip died. His funeral was at Alfred Street Baptist Church. He is buried at Quantico in Prince William County, Va. Tip and his wife had four children.
Harry Sylvester Burke used his military benefits to go to college and, while he was in college, he met and married Costella Grant. After earning his degree, he became a school teacher in Washington, D.C., and later a media director in the school system. Besides his full-time job, he became very active in the Alexandria community, volunteering as a swimming instructor and a community activist. Today, Harry is a widower; he is being cared for by his only child.
These three brothers came back from the war, got married, raised their children and became active in their community. On Veterans Day, we should all remember the contributions our veterans made to serve our country. I know the Burke family will be remembering with us as well.
Char McCargo Bah is a freelance writer, independent historian, genealogist and a Living Legend of Alexandria. Visit her blog at http://www.theotheralexandria.com for more about "The Other Alexandria."