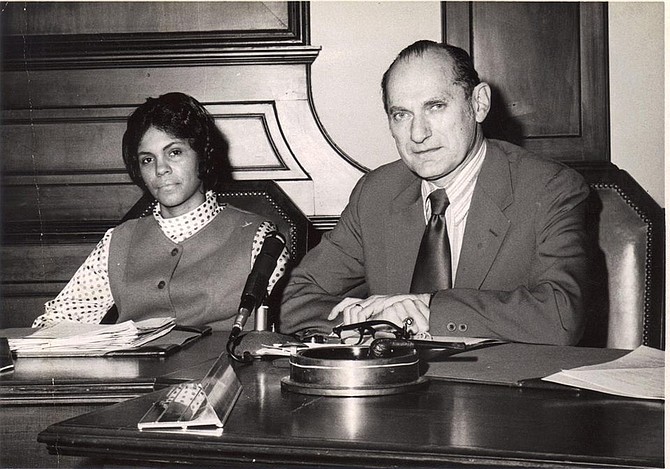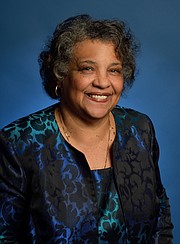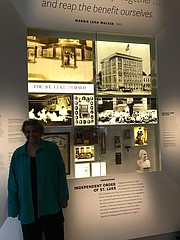 Alice Morgan was known for many things. She founded the city's Martin Luther King Jr. memorial celebration and was the first woman and first African American to serve on the Alexandria Planning Commission. But to her daughter, Morgan was known for her coffee gatherings.
"When I think about mom, I think about the coffee's she used to host at our house," said Morgan's daughter Arvette Reid. "Political candidates would sit in our living room and answer questions from a standing room only crowd that mom had gathered from the community. That taught me early on the importance of being active in your community."
Morgan, who dedicated more than 50 years to community service in Alexandria, died Nov. 4 of congestive heart failure at Leewood Healthcare Center. She was 75.
"Alice was very important to the fabric of the city in so many ways," said Donna Walker James, who worked with Morgan on the board of Agenda:Alexandria. "From being on the Planning Commission to running the MLK Day celebrations for many, many years, she had a great impact on our city."
Morgan was born July 17, 1943, the eldest of four children born to Elmore W. Johnson Jr. and Fannye Mae Quarles Johnson. She grew up in Richmond and graduated from Maggie L. Walker High School which was named for her grandfather's half-sister.
"Aunt Maggie has an exhibit in the Smithsonian African American Museum and a statue on Broad Street in Richmond," Reid said. "She was an inspiration to my mother."
Morgan went on to earn a B.A. from Virginia Union University and a Master's Degree in Social Work from Virginia Commonwealth University. Her career spanned several decades and included work at Central State Hospital in Petersburg, Va.; Prince William County Welfare Department in Manassas; Hopkins House in Alexandria; and St. Elizabeth's Hospital in Washington, D.C., where she retired in 2002 after 30 years of service.
In 1980, Morgan was one of 25 people selected nationwide for an Intergovernmental Management Program sponsored by the Department of Health and Human Services. During this time she earned a Master's Degree in Public Administration from the University of Southern California Washington Center.
As a young bride, Morgan first moved to Alexandria in 1967 and focused her community involvement on affordable housing, senior citizen advocacy and affordable health care. Volunteer activities included the Alexandria Tenants' Council, the Alexandria Boys Club and the Legal Aid Society. She served on the Police Community Relations Task Force, the board of the Alexandria Mental Health Association and the local chapter of the National Conference of Christians and Jews.
Named a Living Legend of Alexandria in 2015, Morgan served on the Living Legends board from 2010 to 2013. During her time serving on the board of Agenda:Alexandria she organized programs on African American history, affordable housing and immigration.
Morgan initiated Alexandria's Martin Luther King Memorial Service in 1973. She went on to volunteer as chair for 34 of the next 35 years before retiring in 2008.
Other awards include the 2010 Marguerite Payez Lifetime Achievement Award, presented by the Alexandria Commission on Women, which cited Morgan as the first African American woman to run for City Council in 1979. Although not elected, her candidacy spurred the involvement of other African American women in politics and community engagement. In 2012, she received the President's Volunteer Service Award for Community Service in Alexandria.
Morgan was preceded in death by her brothers Elmore Johnson and James "Paz" Johnson. She is survived by her husband of nearly 52 years, Wilson Miles Morgan, her sister Zenobia "Puddin" Johnson, her son Weldon "Donnie" Morgan (Rusha), her daughter Arvette Reid (Tom) and grandchildren, W. Miles Morgan, Alexandra "Zan" Morgan, Jarren Morgan Reid and Sovay Alyce Reid.
"Mom's life was a reminder to me that you need to be active," said Reid, who currently serves on the board of Senior Services of Alexandria. "And it was important to her that politicians heard the voice of the black community. I saw her make history in our living room."
A memorial service will be held Friday, Nov. 9 at Mt. Zion Baptist Church, 3500 19th St. South, in Arlington. Visitation will begin at 10 a.m. with a celebration of life service at 11 a.m. Interment will take place at Ivy Hill Cemetery followed by the repast at the Departmental Progressive Club, 411 Gibbon St.
In lieu of flowers, donations may be made to Senior Services of Alexandria, www.seniorservicesalex.org