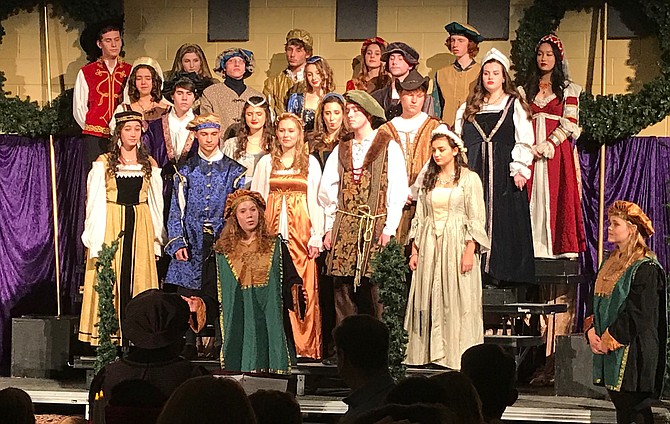 They're warming up their vocal chords, rehearsing their choreography, and fine-tuning each entrance and exit. With the 16th annual Renaissance Feaste coming soon, Langley High School's choirs are busy rehearsing for this spirited, immersive event, which takes place in the school's "Langley Halle." At 7 p.m. on Dec. 7 and 8, choir students in full medieval attire – dressed as jesters, minstrels, and musicians – will serenade guests with holiday carols, entertaining them with performances straight out of Merrie Olde England. In a hall decorated floor to ceiling to evoke a medieval castle, Renaissance Feaste guests will dine on authentic medieval English fare, including meat pie (or chicken or vegetarian), potatoes, and English custard topped with apple crisp.
Dr. Mac Lambert, Choral Director at Langley, described the Renaissance Feaste as "an evening of music, performances, food, and décor, the way it would have been during the Renaissance." He explained that Langley's Madrigals, as well as its Chamber, Select Treble, Treble, and Concert choirs, will perform traditional carols from France, Germany, and Italy. He added, "Both nights of last year's Renaissance Feaste were sold out, so I recommend getting tickets early to make sure you get seats."
For tickets, available through Nov. 30, visit www.brownpapertickets.com, and search for "feaste" (with "e" at the end).