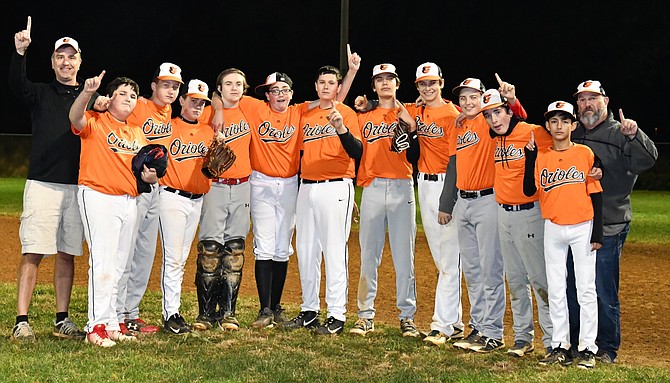 Vienna Orioles won the Greater Vienna–Falls Church–Annandale Babe Ruth National League Fall 2018 Championship on Monday night, Oct. 29 at Nottoway Park, defeating the Cubs 11-1.
The game was tied 1-1 after 3 innings when the Orioles took a 1 run lead in the top of the 4th inning, and then scored 5 runs in the 5th inning, adding 1 run in the 6th and 3 more in the final inning. Five players had hits for the Orioles – Kevin Adamson (1), Ian DePaul (2), Kaden Dillon (1), Jack Turner (1), and Noah Slivka (2), and DePaul hit the only double in the game, scoring 2 runs.

Luke Gecan and James Mills each had a hit for the Cubs.
Starting pitcher for the Orioles was Evan Stegenga. He got the win, surrendering one run on two hits over six and a third innings, striking out five. Kaden Dillon closed for the Orioles, striking out the final two batters.

To get to the Championship game, the Orioles beat the White Sox 13-4, and the Cubs beat the Nationals 12-5. The White Sox won the consolation game versus the Nationals 6-2.