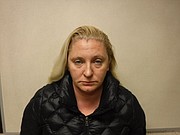 According to Fairfax County Police: A 35-year-old woman is facing charges in the murder of her mom and sister. On July 14, 2017, 23-year-old Helen Lorena Hargan and her mother, 63-year-old Pamela Denise Hansen Hargan were found dead in a home in the 6700 block of Dean Drive in McLean. They had both been shot. The morning of Nov. 9, 2018, detectives from FCPD Major Crimes Bureau arrested Megan Hargan near her home in Monongalia County, W.Va. for their murders – according to FCPD Media Relations Bureau.
The bodies were discovered by officers, after a 9-1-1 call reporting someone in the home might have been killed. The scene was secured and meticulously processed over several days by Crime Scene Section. Detectives determined early in the investigation that the scene was staged to appear to be a murder-suicide.
Due to the complexity of the evidence, a reconstruction of the crime scene was completed by an independent company.
FCPD investigation and forensic findings led to Megan Hargan, and Major Crimes Bureau remained vigilant while pursuing every investigative lead. Megan Hargan was interviewed on July 14, and then again a few days later. Megan Hargan attempted fraudulent money transfers from her mom's bank account on the day of the murders, as well as the day before. Megan Hargan was indicted by a multi-jurisdictional grand jury Nov. 8 for two counts of 1st degree murder and two counts of using a firearm in committing a felony.
"This is a tragedy – domestic violence at its worst," said Major Ed O'Carroll, commander of the Major Crimes Bureau. "Our sincere condolences to the family and friends of Helen Hargan and Pamela Hargan. Know that justice always leads to the truth, and today the criminal justice process on this case continues."
The detectives are still in West Virginia, as the case remains active. FCPD wants to thank their law enforcement partners for their cooperation on this complex case, including the Monongalia County Sheriff's Office.