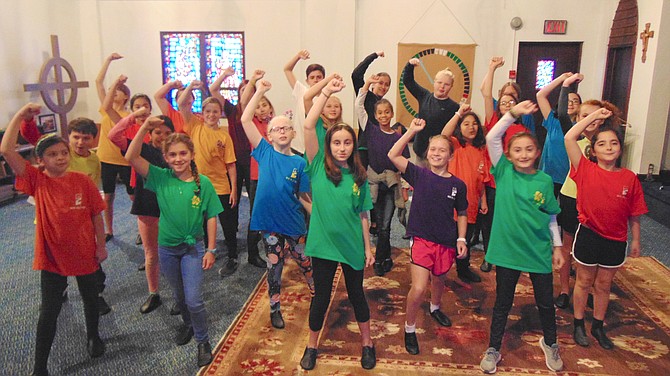 A mysterious message left in the crow's nest of their ship brings Captain Braid Beard and his pirate mates back to North Beach to seek out young Jeremy Jacob to help solve a riddle and find the Christmas treasure. Favorite characters, a rollicking story, great songs, and a trip to the North Pole to find "you know who" makes "Jingle ARRGH the Way!" a holiday show for the family.
With book, music, and lyrics by Janet Yates Vogt and Mark Friedman, the Encore Stage & Studio of Arlington will present the musical with 26 child actors (ages 9-14) from Nov. 16-18, and Nov. 30-Dec. 9. Based on a story by Melinda Long, author of "How I Became a Pirate," the show is recommended for ages 4 and older.
"This show is a silly show about a young boy whose imagination runs away from him and he believes he has friends who are pirates who come to visit him," said Sarah Markovits, a first-time director who is usually a musical director. "And because of this time of year, he's thinking about Christmas and his middle school Christmas play. He brings the pirates to have an adventure with him."
She added: "It's a slapstick comedy. There's a lot of singing and dancing. There's a song about basketball. It's a silly, silly show that's a lot of fun."
In rehearsals since September, she said the challenge was they didn't have videos or recordings they could research since it's an unfamiliar show. "It's been a challenge to have the kids learn something that's brand new to all of us. They're doing a fantastic job…. I hope the (audiences) will have a great time with us. They're going to learn some new twists on some old Christmas songs."
Choreographer Mara Stewart wanted to bring a pirate's spirit to the dancing so everything was grounded, whimsical and fun, she said. "It was also a challenge to create interesting pictures with our 26 pirates. I mean, the look on the stage to create textures and levels with the actors so it's interesting for the audience," she said.
She added: "I always like to give the kids a new experience as far as technical skills. I like to set a goal for each show with something new to learn. In the 'I'm a Star' song, I was able to bring in technical ballet moves that some of the kids might not have been exposed to."
Vivien Williams, 13, of Arlington, plays the role of Pierre, a French chef. The Thomas Jefferson Middle School eighth-grader said: "What I love about the story is it's based on when pirates are around. He loves Julia Child and baking and there's a bunch of pop cultural references, which is really great. What I really like is the pirates are born in the 21st century…. If you see the show, they don't know a lot of stuff. They know about Julia Child but they don't know who Santa is."
Lizzy Burkholder, 13, of Arlington, plays the role of the pirate Max. The Rivendell School seventh-grader said: "One of the main quirks is he has this parrot on the side of his shoulder, and everyone knows it's stuffed but he thinks it's real. I think the main part of my role is that I think I'm better than people but I'm not. No one is really normal in the play, but I'm more normal."
Kate Oliver, 14, of Falls Church plays the role of Sharktooth, the fiercest pirate of the Seven Seas. The Trinity School at Meadow View ninth-grader said: "He has an eye patch and a sword and he's not afraid of anyone, but people are afraid of him. Sharktooth's main quirk is he's a gruff pirate, but he's also a star at heart."
Bridget Schaller, 10, of Arlington plays the role of Swill, a smarty-pants know-it-all. The St. Thomas More fifth-grader said: "He knows everything except for flying reindeer. He's a very bad driver. He tends to run away with the wheel in his hands. He's also a silly person. He tries to make exceptions for things; for no dancing — he makes up a pirate jig, a really weird dance that's very simple."
The Encore Stage & Studio of Arlington will present the show Nov. 16-18, and Nov. 30-Dec. 9. Tickets are $15 adults; $12 children, students, military and seniors. Showtimes are Fridays, Nov. 16, 30, and Dec. 7, at 7:30 p.m.; Saturdays, Nov. 17, Dec. 1 and 8, at 11 a.m. and 3 p.m.; and Sundays, Nov. 18, Dec. 2 and 9, at 3 p.m. All performances are held at Gunston Arts Center – Theatre One, 2700 S. Lang St., Arlington.