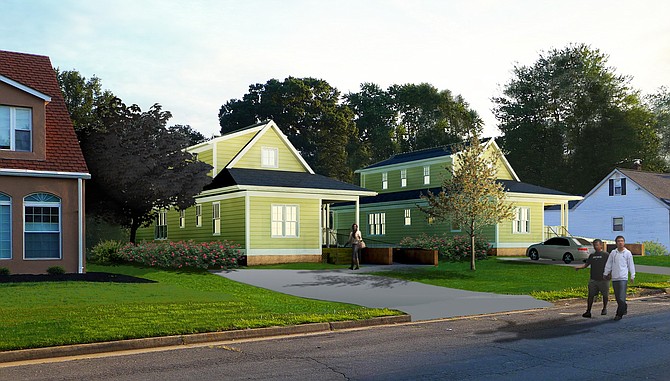 The average American spends almost 40 percent of their take-home pay on housing, according to the Bureau of Labor Statistics, and the cost of living in Northern Virginia isn't average.
"We have a real problem in Northern Virginia with gentrification," said Jon Smoot, executive director of Habitat for Humanity Northern Virginia (Habitat NOVA) said. "Home prices go up three to five percent every year while people on fixed incomes don't have a way to cover those cost increases. This lack of affordable housing is detrimental to the community."
This problem has Habitat NOVA in overdrive as they execute their mission to turn lower income residents into first-time homeowners. With the help of volunteers and a small staff, this non-profit organization renovates and builds homes expressly for Northern Virginians living on 40 to 80 percent of the Area Mean Income (AMI). Habitat NOVA also issues interest-free mortgage loans for the homes they renovate and build, thus sparing Habitat homeowners roughly 50 percent of standard costs.
Since 1990, Habitat NOVA has made housing affordable for hundreds, constantly expanding their community of new homeowners. On Wednesday, Nov. 14, Habitat NOVA's next CEO Build Day, a group of local CEOs were scheduled to "raise the walls" of the non-profit's 100th new build, a single-family home in the Fairfax County section of Alexandria.
"The main message of CEO Build Day is that affordable housing is a vital investment in the community's infrastructure," Smoot said. "Housing is the number one social determinant for success, affecting health, longevity, the ability for people to make contributions to the economy, and so on. The CEOs and presidents of eight different corporations will be out there with us on Nov. 14 – all from companies that support Habitat. They'll be putting on hard hats and work gloves and framing walls. It's a great opportunity to raise awareness of how housing affordability is actually smart business."
The eight executives scheduled to be on site are leaders from Freddie Mac, HITT Contracting, JBG Smith, Leidos, the National Association of Federally Insured Credit Unions, The PenFed Foundation, Streetsense, and The Craddock Group.
"We decided to make this 100th new build a military veteran home because we purchased the land at a steep discount from an Air Force Vietnam veteran," Smoot said. "This is for a local Marine Corps veteran who did three tours in Afghanistan and Iraq. It's exciting to everyone involved that we got the property from a veteran for an extremely reasonable price and now we're giving something right back to another veteran."
Smoot added that, in addition to the 100 (and counting) newly constructed homes that the Habitat NOVA team will have under their belt, they have also renovated dozens more structures across the area.
"I really hope all these CEOs feel good about their involvement with Habitat and the work they do for affordable housing," Smoot said. "Freddie Mac will often fund their employees to be out and serving the community, so as the corporate sponsor of this CEO Build Day, they'll bring a team of volunteers. We'll have plenty of people to keep working after the CEOs have to go back to work."
Drew Mucci, president of HITT Contracting, plans to keep working long after the walls are raised.
"This will be my first Raise the Walls event, but I'm really looking forward to it," Mucci said. "My background is as a professional builder, so I know I'll be the one waiting to see if we can stay there longer and keep going until we absolutely have to stop. That's how I'm built, and that's how most people at HITT are. We have a sense of community strongly ingrained in our culture."
With a healthy amount of affordable housing projects, HITT is a general contractor that naturally aligns with Habitat NOVA.
"We've been supporters for years," Mucci said. "It's a great fit because we take great pride in what we build, and affordable housing is at our core. I immediately saw CEO Build Day as a unique opportunity to work alongside peers who share important values and goals. I think is an awesome concept to show the public how each firm wants to connect to the community, and the importance of working together to confront an important issue."
Habitat NOVA invests a lot more than blood and sweat into these families, too. The organization remains an important ally long after the new homeowners get the house keys.
"Part of those sweat hours are financial literacy and training," Smoot said. "Owning a home is a completely different animal than renting, so we give them a lot of training on budgeting and financial literacy during those 400 hours to make sure they are successful. We provide a home warranty for a year and our valued partners work with the families for after-purchase continued literacy. We are not only interested in getting people in a home, but also making sure they stay in a home."
"We are busy," Smoot said. "We are a bit strange because we are a general contractor, a lender, an educator, and an advocate. Through all that, we do about four projects a year – condos, townhomes, single family homes, just about anything. We build Wednesdays, Fridays, Saturdays, and sometimes Thursdays, so we spend three to four days onsite per week. Our team includes a construction staff of three, and where we really thrive is with our sandlot group, made up of about 30 construction volunteers who can build from blueprint to finish."
If only, Smoot said, there were a few extra hours in a day for Habitat NOVA take on more.
"We have a lot of applicants, and the demand is so high, it just breaks my heart," Smoot said. "The stories and the perseverance of these families to make it is unbelievable. It is unbelievable what they have to sacrifice for their families. We are a lender, so we carefully vet all of our applicants, choosing is really hard. They must be legal Virginia residents with good credit scores and good work histories. Once we have a pool of qualified applicants, our Family Selection Committee will look at everything and make recommendations to the Board."
As important as it is to eliminate some of the heartbreaking stories he hears as a result of unaffordable housing, Smoot insists that Habitat NOVA's work benefits so much more than the individual families served.
"Businesses have a hard enough time attracting and retaining good employees, and housing costs are a huge deterrent to keeping good employees," Smoot said. "Then, traffic gets worse and major arteries are clogged because people can't live where they work. Businesses need to be in the game politically and economically."
Clearly, at least a few businesses are already in the game.
"HITT is a family-owned company headquartered in Falls Church and we've been here for more than 80 years," Mucci said. "We really understand firsthand the costs of living in this area. We understand the positive impact that Habitat has, and it's our responsibility as a business rooted here to do our part to give back."