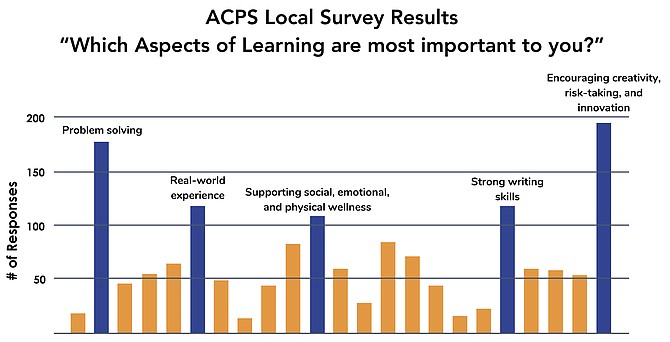 To modernize high school education and relieve capacity strain, the public schools administration advises distributed programmatic sites, rather than strictly an expanded or second high school campus.
Between its Minnie Howard (grade 9) and King Street (grades 10-12) campuses, T.C. Williams High School will need to accommodate some 4,900 students within the next decade. That's roughly 1,200 — a third — over the facilities' combined design capacity.
How the division copes with this ballooning enrollment "is really shaping what the city's going to look like in the next 50 years," said School Board member Hal Cardwell.
In last year's budget, the city government and school system put the problem on the front burner. They agreed on $5 million for project planning in FY 2019 and a total of $124 million by FY 2021 for construction. That's one of the largest single public investments on Alexandria's horizon, behind sanitary sewers and transit.
But what exactly that sum would buy was left an open question. This summer, the schools launched a fast-tracked process to define the High School Project, aiming to narrow down sites and to get it to the design phase by springtime. After three months of initial community engagement, staff broadly outlined three options on the table, expressing a preference for the third, at the School Board meeting on Thursday, Nov. 8:
Expand the existing high school campus(es);
Add an additional stand-alone high school(s) somewhere in the city;
Create off-site specialty programs, e.g., a network of "thematic-based learning centers" distributed across smaller sites.
Community engagement so far has sought to glean from students, families, educators and local businesses what they want a high school experience in Alexandria to look like. That vision would in turn drive what sort of facilities-based solution the schools decide to pursue, and not the other way around.
High school should produce workers capable of "reconditioning" themselves in a fluid labor market, according to a presentation by staff and consultants to the School Board on Thursday, Nov. 8. Students must develop skills like "creativity," "cognitive flexibility" and "learning agility" via more pupil-led "experiential learning" contexts, such as internships and apprenticeships. For this, the school system would expand partnerships with local organizations, not least businesses, tapping into the whole "Alexandria community as a classroom."
"Right now, based on all of the data that we have, strategy three is going to be the most accommodating to fulfill everything that's in the educational vision," said Dr. Gregory Hutchings, Jr., the schools' superintendent.
Staff and consultants offered several cases in point from around the country. For instance, Crosstown High School, a public charter school which partners with other organizations, sits in a redeveloped 1.1 million square foot "vertical urban village" in Memphis, Tenn.
In a similar vein, Alexandria's school division recently announced a partnership with Virginia Tech, which plans to build a doctoral-level campus near Amazon's new Arlington-and-Alexandria-based headquarters. According to a press statement, the partnership "will increase investment in the tech-talent pipeline and give Alexandria City Public Schools access to new resources related to computer science education. These resources include … high-quality curriculum and related resources, summer and after-school programming for students, and meaningful career exposure and work-based learning opportunities in high-demand fields."
Mitigating concerns about Alexandria's racial history also factors into the administration's recommendation.
T.C. Williams has been Alexandria's single, racially integrated high school for almost half a century. But Alexandria remains demographically lopsided, leading some to worry that adding a new stand-alone campus might lead to de facto re-segregation and increased racial inequity.
The recommended model would maintain multiple programmatic sites under the auspices of one T.C. Williams. Rather than home addresses determining districting around potential new facilities, what workforce-oriented path families want their students to take would serve as the deciding factor. The school division would provide students "the support to get there, wherever it is — whether it's at [the] T.C. main campus or a specialty location or at a partner's internship or site. That is what we think … will help transcend the problem [of equity]," said Mignon Anthony, the school system's COO.
School Board members generally expressed approval of the workforce-oriented educational vision. But several also expressed wariness that the multi-site implementation plan might be moving ahead too quickly — especially since the administration wants the School Board to vote on the plan in its current phase in just three weeks, on Thursday, Dec. 6.
"[That's] not a lot of time for [public feedback]. I know we get paid the big bucks to make those calls, but that time period seems really short for such a consequential decision," said School Board member Chris Lewis.
"I don't know how far we can get down that [decision-making] road with the limited amount of analysis for these alternatives that we've got in front of us right now," said Cardwell.
"I don't see three options, I see a myriad of options," he said. For example, "I'm not even sure what we mean by 'expanding the existing high school campus.' Is that tearing down Minnie Howard? Is that taking over Chinquapin [an adjacent public recreation and pool facility]? … If we decide [to add an additional comprehensive high school], do we even have the space? … Where the heck would we put people?"
"There has been, I think, an over-emphasis on the programmatic [considerations]," said School Board member Karen Graf. "I want to make sure that we're talking about land, talking about buildings, and talking about programming in a way that gives a balance to each one of those."
School Board member Veronica Nolan expressed doubt about local businesses and organizations' capacity to offer internships, beyond what many already provide.
"I'm hoping that a lot of these recommendations are rooted in reality," she said.
For more, visit www.acps.k12.va.us/hsproject. The School Board will consider the matter further at a work session on Monday, Nov. 26.