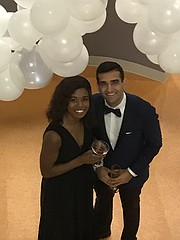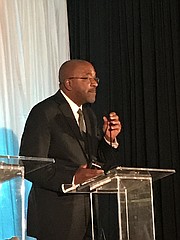 The goal of YMCA Fairfax County-Reston is to make all it offers accessible and available to the entire community. With that goal in mind and with the help of its generous donors, community partners and members, the social service agency celebrated its 19th Annual Community Gala Saturday, Nov. 17, 2018, in the newly renovated space.
Regional business owners and community leaders took up the charge. They came out in full force with in-kind donations of art/entertainment, fine dining, family fun and getaways for the raffles, and raised funds for the only YMCA in Fairfax County, supporting the YMCA's stated campaign that what one does today shapes tomorrow. A reported crowd of 240 ticketed supporters attended the red carpet event.
"The community support was awesome and so necessary for the Caring for Community fund," said Liz Nason, Associate Executive Director YMCA Fairfax County Reston. She explained the Caring for Community scholarships program helps make camp possible for many who otherwise can not afford such on their limited incomes.
The funds raised will assist the "Y" in 2019 in providing financial assistance to needy families and individuals in the community seeking childcare, preschool, day camp, senior and teen programs, swim lessons and much more.
Ultimately, bids, as well as general contributions for the evening, totaled $138,000, $38,500 for summer camp scholarships reported Nason the day after the Gala.
During the evening festivities, Karen Cleveland announced the recipient of the Jim and Karen Cleveland Partnership Award, which recognizes exceptional leadership in bringing organizations together to better achieve the common good.
Cleveland said, "This individual truly embodies the values of the Y... Her passion is contagious... She is a true partner in our community...the 2018 recipient of the Partnership Award is Kathy Tracey."
According to recent information provided by YMCA of Metro Washington, today the 65,000-square-foot facility boasts 12,000 members and operates with a budget of $8 million and 250 employees.

Anyone interested in applying for a Caring for Community scholarship may visit the YMCA Reston at 12196 Sunset Hills Road or phone 703-742-8800 for more information.