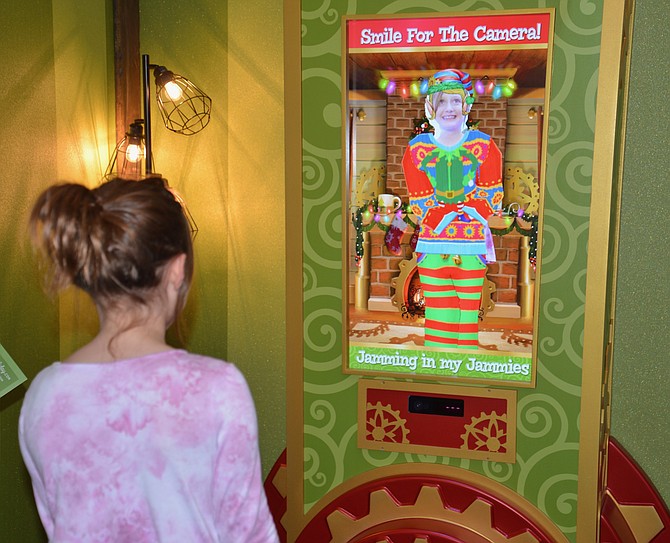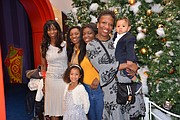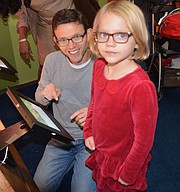 Nestled at a shopping lane crossroads in Tysons Corner Center mall, Santa's HQ, presented by the HGTV channel, offers a lot more than the Santa chair surrounded by a few elves that you may remember from your childhood.
Kids, and quite a few of the older, but still young-at-heart crowd were observed on the Saturday before Thanksgiving, checking out the holiday action at Santa's HQ.
Instead of the long line of little ones growing increasingly restless as they wait their turn for a Santa visit and a photo op with the "jolly one," visitors to the HQ are given lots of interactive things to do, right from the start. The entrance to the "Elf Academy" begins with a "scale" that determines if you are on the "Naughty or Nice" list. No one seemed too concerned about being on the former. "Oh, I know he's just kidding," said 6 year-old Caitlin Price from Vienna. "I am really good – most of the time!"
After that determination, it's time to enter the Academy. This igloo-shaped section of the HQ lets visitors move through at their own pace, once more avoiding the "line-'em-up" frustrations and fidgets. Brian Caruth of McLean and 5-year-old daughter Avery spent a bit of time in this first section, just learning the elf ropes and getting acquainted with the set up.
It's also the place where youngsters – and, again, the not-so-young – get to try on some elf fashions in "Santa's Magic Mirror" and create a personalized Elf ID Card. Charlotte, 8, and sister Juliet, 11, from Fairfax Station shared a lot of laughter as they picked their elf avatars and decided on the perfect costume for each.
In this first interior station, kids have the freedom to shake off some of that excess energy with movement and giggles before heading into the "forested" pathway to their next activity.
THE PATHWAY is short, but decorated and lit to provide the perfect stopping point for taking your own family holiday photos, like the extended Kalinovsky, Okola, Gee, Cave family from various areas around the region, who stopped to do just that. Again, design logistics allow others to pass by, even when a crowd like this stops to get the perfect shot.
The next spot is another rounded room where HQ guests can move about and features a control panel with lots of buttons and levers and lights and sounds for little hands to touch. There's also an interactive journey with "hidden" elf action that is revealed via an "Elf-Ray Vision" programmed tablet or a downloadable app.
When every inch of Santa's HQ has been explored, it's finally time to meet the man himself – well, almost, since even the area that holds the main event was created to minimize the crowd backups and give folks something else to do and think about while they wait. Before the Santa visit and photo, there is another photo opportunity with a bench for resting those shopping and line-weary feet, complete with a colorful Holiday town backdrop.
Then, at last, it's Santa time – and, of course, lots of photo snapping.
Santa chose well in having the folks from Worldwide Photography be his helpers and official photo takers. All throughout his HQ, the elves from Worldwide could be found not only welcoming their visitors, but making sure they understood how to work all of the "magical" devices. More than once, an "elf" was seen getting down to the level of the smallest guest to help out, or just joining in the fun, like Kevin, a new addition to Santa's staff, who was happy to demonstrate the Magic Mirror and try out a few of the elven fashions himself. Saturday's "head elf" Ms. Ty, kept things moving along and could be seen flitting from one place to the other, ensuring smiles from all.
Even with all of this organization, lines can, and no doubt will be, sometimes daunting.
TO EASE some of that, Santa and his sponsors and elves offer a reservation service. Head to their website at www.santa-hq.com, find the Tysons Corner Center location, and click through to the calendar to find an available date and time for your visit. There are also some special events listed, including Grandparents Day, Holiday PJ Day, and even an Ugly Sweater Day on Dec. 13.
Santa's HQ's will be entertaining visitors until Dec. 24.