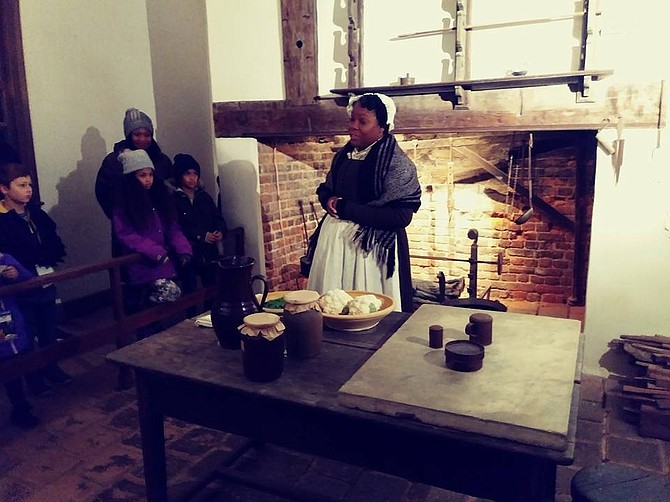 A warm welcome from smiling hosts and hostesses, candlelit walkways, as well as warm apple cider and cookies. Hard to get better than that for a holiday season festival.
But imagine the following enhancements: a glowing bonfire, a visiting camel, a tour of one of the world's most famous historic homes and a brief chat with America's first First Lady.
That's right, Martha Washington, along with an array of costumed 18th-century personalities, will welcome visitors to the Mount Vernon estate on chilly nights during Mount Vernon by Candlelight, a special Christmas-themed tour for the whole family.
Arrive at Mount Vernon's Ford Orientation Center and be led by a tour guide to the majestic lawn leading to the famed house. Walk in the moonlight under enormous, stately trees while learning more about General Washington and his celebrated mansion.
Once there, you'll be greeted by actors portraying real-life people who once lived at the estate or visited there in Washington's day. They include the farm manager, an enslaved worker in the kitchen, a granddaughter and, of course, the President's wife.
The role of Martha Washington is inhabited by actress Mary Wiseman, who has been interpreting the persona for more than a decade at the estate. She'll welcome you in the dining room — both colorful and filigreed — where she entertained not only friends and family at Christmas, but also American history luminaries such as the Marquis de Lafayette. The French nobleman was a George Washington protégé who brought this nation's first leader a key from the Bastille; it hangs in the house's central hallway for all visitors to see.
After departing the home, step into a garden landscaped according to Mount Vernon historical records. Once there, you'll be guided into the garden house where you can watch — and even participate in — 18th-century dancing. Accompanied by a recorder, the dancers invite both adults and children to join in while showing everyone the proper steps.
Before leaving, one can stop at outdoor tents set up in a meadow where historically dressed volunteers will help you warm up by cauldron fires and direct you to cider and treats. You can also bid Aladdin the camel a merry Christmas. The animal has become a holiday favorite with visitors over the last decade and is historically accurate. Records show that George Washington invited a representative of a traveling circus to his estate one Christmastime so he could bring the circus's camel, a site which few, if any, 18th-century Americans had ever seen.
If, after the tour, you're still in need of cozy warmth, stop at the Inn at Mount Vernon, the on-site restaurant, for Virginia peanut soup or some other fare. Or stop at the bar for spirits distilled as Washington might have distilled spirits and which are marketed under a special Mount Vernon label.
"This is a terrific way to see the mansion and all that it represents come to life," said Rebecca Aloisi, Mount Vernon's vice president of marketing. "Usually, people learn about the architectural details and other facts as they tour the house but for this event, the tour is provided by people from George Washington's life, all of whom tell their personal story about the holidays and the estate for guests. It's a very special opportunity to take a unique peak into the past."
Mount Vernon by Candlelight basic information: Nov. 23, 24, and 30; Dec. 1, 7, 8 and 16. 5-8 p.m. Tickets: $25 adult (12 and up); $17 youth (ages 6-11); Children 5 and under are free. Free parking on site. For tickets and more information, visit: www.mountvernon.org/candlelight