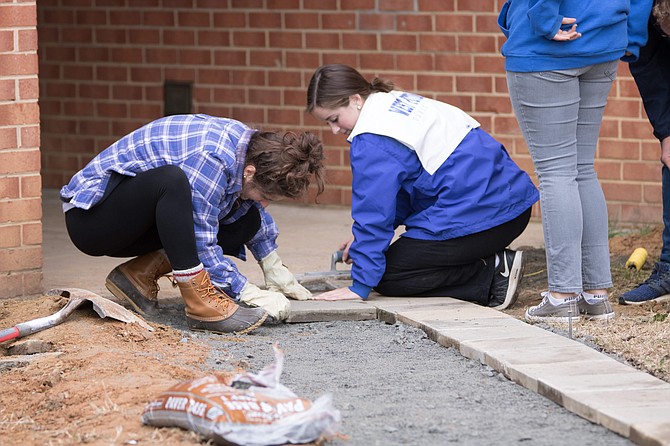 The West Potomac High School Wolverines and the local community turned out in force to support the third Annual Travis Manion Foundation (TMF) Operation Legacy Veterans Day of Service on Monday, Nov. 12.
With the motto, "What will your legacy be?," TMF will host over 125 Operation Legacy days of service in November across the United States and Canada. Operation Legacy seeks to unite communities across the nation to create positive change, while honoring the legacies of the nation's heroes.
At WPHS, the students and staff members took the challenge to honor active duty military, military veterans, families of the fallen and first responders and connect them to the next generation via service here at home.
Jim O'Farrell, a Navy veteran and local TMF volunteer organizer, said, "At our Operation Legacy project on the Veterans Day holiday, we saw hundreds of students, military veterans, first responders, teachers, administrators and inspired civilians come together to complete over 25 individual service projects on the campus of West Potomac High School. From painting and mulching to picking up trash and preparing a hot lunch on a chilly day, the volunteers joined together to be part of something much bigger than themselves."
Just as inspiring was seeing the generous outpouring of support for this event from members of the local community, O'Farrell said. Caroline Ross, owner of River Bend Bistro, who has a history of military service in her family, donated a pot of vegetarian chili. Coyt Hutchison, owner of the Jimmy John's franchise on Richmond Highway, who recently served in the Marine Corps, donated hundreds of sandwiches and bags of potato chips. And the West Potomac Athletic Boosters Club (WABC) pitched in and provided and grilled hamburgers and hot dogs.
The day began with an opening ceremony that included remarks from Fairfax County Public Schools Board Chair Karen Corbett Sanders, a remembrance of WPHS's own fallen hero, Army Command Sergeant Major James Blankenbecler courtesy of a personal letter to West Potomac High School students from Blankenbecler's Commanding Officer in Iraq, retired Army Colonel Rick Starkey.
Retired Navy Capt. John Stamos, whose call sign while a Navy F-18 Hornet pilot was "Famous" and who currently serves as the WPHS men's lacrosse team coach, was guest speaker. Stamos told the students about the experience of landing on an aircraft carrier in the pitch-black night – and the fear every pilot feels. He encouraged the students not let the inevitable fear of new challenges hold them back – but rather use the fear to propel themselves forward.
Assistant Principal Jessica Statz, one of the organizers of the effort, said, "I love this day. It was truly a community event with all sorts of students, teachers, veterans and first responders working together all day. I was very proud of our students. All of the participants truly fulfilled the Travis Manion Foundation motto of "If Not Me, Then Who .…"

Who was Travis Manion? He was a Marine Corps first lieutenant, killed in an ambush on his second tour in Iraq in 2017 while saving the lives of two of his fellow Marines. For his bravery, Manion was posthumously awarded the silver star. However, Travis began his life in Fort Hunt on Bainbridge Road, just a few blocks behind the Safeway on Fort Hunt Road. He played football for Fort Hunt Youth Athletic Association (FHYAA) and attended Hollin Meadows Elementary School and later the U.S. Naval Academy in Annapolis, Md.
Several years ago, O'Farrell, a fellow Naval Academy graduate who lives in Fort Hunt, decided to honor Travis's memory and connect military veterans with students at West Potomac High School through a day of service on Veterans Day.
The students were inspired. "The highlight of my day was interacting and meeting with the veterans that were assisting with Operation Legacy," said Jayson Ruelas, a WPHS senior. "After talking with several of the veterans that were participating, I realized that I enjoy and want to continue serving those who served for me."
One of the highlights of the opening ceremony was the announcement of the winners of the first Operation Legacy Veterans Day of Service Poetry Contest at WPHS. In response to a request from O'Farrell and English teachers, Robert Holloway and Sherylin Bayers, 26 students submitted poems intended to address several themes they were provided. These themes included:
"If Not Me, Then Who…"

What does Veterans Day mean to you?

What will your legacy of service be?

Why is it important to be part of something bigger than yourself?

Our nation is built on timeless ideals of freedom, diversity, unity, and selfless service for the common good. America is the land of opportunity and a beacon of hope despite our cultural, social, and economic differences.

What is Character? How do Moral Courage, Integrity, Leadership and Service impact our Character?

Who is someone in your life that you think has strong Character? Why?
To engage veterans in the poetry contest, O'Farrell contacted Sam Pressler, executive director of Armed Services Arts Partnership (ASAP) and asked if he could ask for military veterans to serve as judges. ASAP's community of veterans immediately responded and scored each of the 26 poems.
The three winners of the poetry contest were:
1st place – "The Eleventh Day of the Eleventh Month" by Ryan Bowers

2nd place – "Pathfinder" by Sabit Alam

3rd place – "Maria" by Victoria Santos-Blanco.