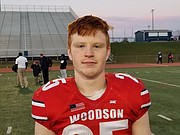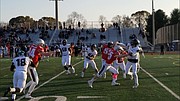 "They want to leave their legacy as the greatest team in Woodson history and we're one game away." —Woodson head coach Jared Van Acker
Christian Yost gave the Woodson football team a two-score cushion with a pick-6 earlier in the fourth quarter.
Later, with South County trying to engineer a comeback, the senior linebacker finished the job.
Yost, the Patriot District Defensive Player of the Year, stepped in front of a South County crossing route to snag his second interception of the day and secure a 20-10 Cavalier victory on Nov. 17 in the Region 6C semifinals at Woodson High School.
The victory improved Woodson's record to 11-1. The top-seed Cavaliers will host No. 2 seed Freedom (Woodbridge) in the region final at 7 p.m. on Saturday, Nov. 24.
It will be Woodson's first appearance in a region championship game since 2009.
"We're a very senior-heavy team," Yost said. "We use the feeling that no one wants this to be their last game. Since we have so many seniors, that feeling compiles and we feed off it."
Nothing about Yost's youthful face or 5-foot-8, 155-pound frame says, "star football player."
"Then, when he plays the game [and] the lights come on," Woodson defensive coordinator Mel Morgan said, "you're like, 'wow.'"
YOST is the leader of a Woodson defense that isn't loaded with Division I athletes, yet through 12 games is holding opponents to fewer than 10 points per contest.
"I tell my kids all the time, we don't need to have the D-I athletes," said second-year Woodson head coach Jared Van Acker, who previously coached at Battlefield, "we just need to play together as a team – one heartbeat, do it together, love your brother and fight for your brother."
On Saturday afternoon, the Cavalier defense kept South County out of the end zone, limiting the Stallions to a 22-yard field goal early in the fourth quarter.
South County's lone touchdown came via defense in the first quarter, when linebacker Brian Dumbuya intercepted a pass tipped by lineman Haris Khan and returned it three yards for a 7-0 Stallions lead.
With Woodson leading 14-10 and less than 8 minutes remaining in the fourth quarter, and South County facing third-and-long deep in its own territory, Yost intercepted a pass and returned it 19 yards to give the Cavaliers a two-score advantage.
"He doesn't look like much, but he's a ball player," Van Acker said about Yost. "He's a three-sport star: football, basketball, lacrosse."
What Yost lacks in size he makes up for in other areas.
"He's smart, he's resilient," Morgan said. "He gets blocked, he fights through it, he finds the crevices, he makes tackles, he makes picks, he's a vocal leader. The only thing that is not on the list is 6-foot, 200-something."
Woodson forced five turnovers, including four interceptions. Senior defensive back Ryan Mamere and junior defensive back Noah Roah each had an interception for the Cavaliers.
"We take a lot of pride in our defense," said senior defensive back/running back Isaiah Barnes. "We see it as an insult to let people score on us. Other people try to doubt our defense. As the game goes on, it just hypes us even more as they don't score."
While the Woodson defense played well throughout the contest, the Cavalier offense and special teams struggled early. In the first half, Woodson special teams missed two field goals and muffed a punt for a turnover. Sophomore quarterback Joe Pesansky threw a pair of interceptions, including one that was returned for a touchdown.
Late in the first half, Woodson started a drive on the South County 26-yard line, thanks to a Stallions penalty during a punt. Five plays later, senior quarterback Jack Fisher converted a sneak on fourth-and-goal from inside the 1-yard line, tying the score at 7-7 with 1:13 left in the second quarter.
On the opening possession of the second half, South County decided to go for it on fourth-and-inches from its own 39, but the Woodson defense came up with a huge stop, swarming the Stallion ball carrier in the backfield.
Woodson then marched 37 yards in eight plays, taking the lead for good when Barnes took a direct snap and scored on a 2-yard run with 6:46 remaining in the third quarter.
"We never put our heads down because that was last year's Woodson," Barnes said. "That is our motto: we never give up. It is always push on. We never put our heads down."
Trailing 14-7 late in the third quarter, South County embarked on a 14-play, 86-yard drive but failed to score a touchdown. The Stallions faced 2nd-and-5 at the 6-yard line, but the Woodson defense stopped Tyler Johnson for a 1-yard gain on second down forced an incomplete pass on third down, leading to a 22-yard field goal for South County.
"The old saying is defense wins championships," Van Acker said, "offense determines by how much."
VAN ACKER took over as Woodson head coach prior to the 2017 season, when Mike Dougherty left the Cavaliers to take over as head coach at Lake Braddock. Woodson lost several close games in 2017 and finished with a 4-6 record.
This year, the Cavaliers' lone loss was an 18-12 defeat against Lake Braddock on Oct. 12. Woodson, Lake Braddock and South County finished in a three-way tie for the Patriot District championship.
"We were, basically, [three] games away from being 7-3 last year and having a winning season," Van Acker said. "A couple things went wrong for us – we lost [multiple] games in the last two minutes of the game. …Most of the guys are seniors that are returning. They went through that season and they believed in the process. They worked all offseason. What we are going through right now is not by chance or by luck."
Morgan, who spent nearly two decades as a Lake Braddock assistant before joining the Woodson staff, has played a key role in the Cavalier turnaround as defensive coordinator.
"He's everything," Yost said. "He's the brains behind the operation. Great DB coach, great D-line coach, everything. He's been around football for a long time and you can really tell when he talks."
Next up for Woodson is the region championship game against a Freedom team that is 11-1 and defeated Hayfield, 29-19, in the region semifinals.
The Cavaliers are in search of their first region title since 2004.
"They want to leave their mark," Van Acker said. "They want to leave their legacy as the greatest team in Woodson history and we're one game away from it."