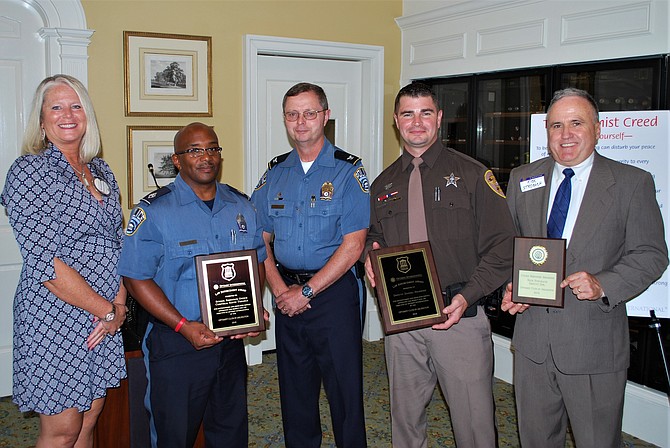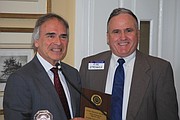 The Respect for Law awards ceremony was held at the Washington Golf and Country Club by the Arlington Optimist Club (AOC) honoring three local law enforcement officers. A County Board Proclamation by Board Chair Katie Cristol declared the week of Sept. 3, 2018 as Respect for Law Week in Arlington County.
AOC's Respect for Law Program was established in 1981 and chaired, for 30 years, by Judge James F. "Jim" Almand. Respect for Law's current chairperson is AOC's board member Shandra Niswander.
Deputy Daniel Hilsdorf was nominated by Sheriff Beth Arthur, who was in attendance. Hilsdorf was accompanied by Kristine Bieniek, his supervisor; Lt. Robert Morrill; and Chief Deputy Kidwell. Hilsdorf began his career as a Deputy Sheriff with the Arlington County Sheriff's' Office in 2014 until his reassignment to the Warrant Section in March 2017. In 2018 Hilsdorf was able to de-escalate a volatile situation in Clarendon Central Park. He was honored for demonstrating the qualities expected from public safety employees, displaying empathy, restraint and a high level of professionalism.
Corporal Kevin Treakle was nominated by Chief Jay Farr, who was in attendance. Also witnessing Treakle's award presentation were Lt. Susan Noack, and Capt. Wayne Vincent. Treakle has been a member of the Arlington County Police Department for approximately 21 years, and has been assigned to the School Resource Office Unit serving as the Field Training Officer. He is passionate about working with youth of all ages from kindergarten through high school and was instrumental in developing a summer camp for at-risk youth.
Rick Strobach, deputy director of the Juvenile and Domestic Relations District Court Services Unit, was nominated by Earl Conklin, director of Court Services. His award was presented by the Hon. George D. Varoutsos, who described how "countless youth have benefited from Strobach's leadership in developing and managing community-based programs for court-involved youth, most recently with the addition of the Young Achievers after-school program for boys, and the Safe Havens Supervised Visitation Program, due to open soon." Strobach's guest was Chris Edmonds, a former Respect for Law Program awardee and is the current Group Home Manager at Argus House.

Arthur's closing remarks emphasized the close cooperation between Arlington's Police Department and its Sheriff's Department. Arthur also described their recent initiative in developing a re-entry program to assist inmates in their transition from jail to leading successful lives in the "real world."

To learn more about the AOC, visit www.optimistclubofarlingtonva.org/.