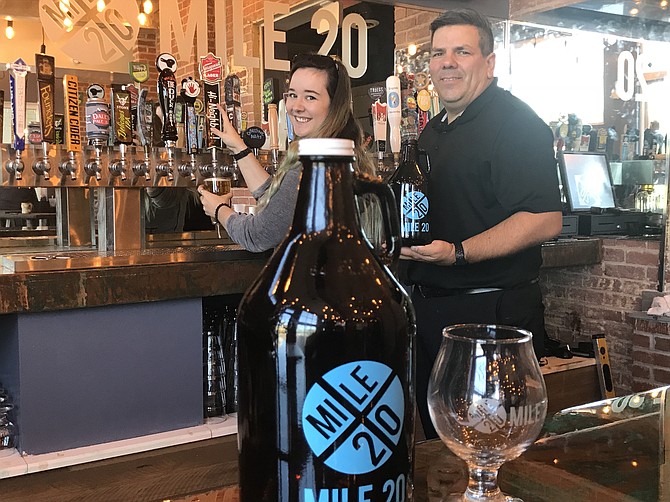 Phil Orme believes his new craft beer and cider bar, Mile 20, located inside a renovated industrial section of the Mediterranean Breeze restaurant, fills a void in the Herndon area for an extensive tap list, well-stocked cooler, and great beer and cider-friendly food all in one space.
"The thing is, you have all these craft beer venues — everywhere. In downtown Herndon, there wasn't a restaurant offering a wide selection of craft beers. We are pairing our local, favorite foods with fabulous craft beverage selections," said Orme.
Beer and cider enthusiasts can stop in at Mile 20 for a pint, pair their newfound favorite with a full meal from the restaurant, and then if they want, grab a growler or more to-go for later. Mile 20 at the Mediterranean Breeze Restaurant holds a beer on-and off-premise retail license. With this idea in mind, at noon on Saturday, Oct. 6, Orme opens the doors to Mile 20 located in a gem of a building in the downtown district and debuts a beer and cider bar destination of distinction.
"We are offering 24 rotating craft beers and ciders on draft, as well as a wide selection of canned and bottled beverages for on-premise and off-premise sales. We anticipate our target audience to be craft-beer enthusiasts," said Orme.
"We are located in the national historic district of downtown Herndon and in one of the town's most notable buildings, home of the National Bank of Herndon (1910). We've given the interior space of Mile 20 an industrial vibe with exposed metal beams, original brick walls and artisan-created, copper oxidized bar top."
Hours are Monday-Thursday 3-10 p.m., Friday 3-11 p.m., Saturday noon-11 p.m. and Sunday noon-10 p.m. at 781 Station St., Herndon, VA 20170.
www.medbreezeva.com/mile20