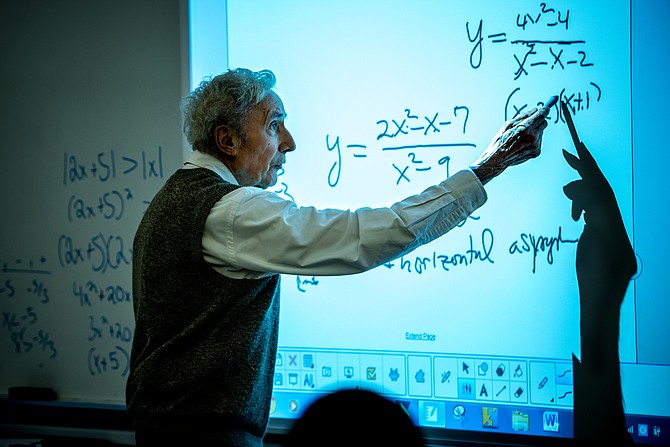 A 60-year veteran teacher advises students to work hard, teachers not to burn out, parents to begin educating their children early, and public officials to keep schools up to snuff.
Louis Kokonis, a calculus teacher at T.C. Williams High School, began his career as an educator in 1959. Now 86 years old, he's still at it, with no plans to retire, as long as his health keeps. In a Sept. 24 interview, he shared some of his life experience.
Kokonis grew up in Washington, D.C. After a stint driving trucks in Europe for the Army, Uncle Sam put him through college. He went on to earn two master's degrees, one in education and another in math. He taught first at Francis Hammond High School, moving to T.C. Williams when Alexandria integrated its schools. Now he also teaches two dual-enrollment math classes at Northern Virginia Community College (NOVA), through which high school students can earn college credits.
Asked what's kept him coming back, he said, "I love teaching math. … And I like kids. I enjoy the interaction I get here, with kids and the teachers. … It's a good job, doing something you like." He's kept up with a couple former students — one now a chemist, another an engineer.
The territory comes with plenty of challenges. For their part, students face more pressure related to college.
"When I went to college, it was just, 'Come on in,' that's it. … The cost of college is out of reach for a lot of students. … By the time they get out of college, they have a great debt. When I graduated, I didn't owe anything. … The other thing that's new is all this testing. … So that's another burden on the students, they have to pass all these tests. … I didn't have to take an SAT when I went [to college]. It was an easier time for a student …."
Asked for his best advice to students, he said: "I can only tell them, to get somewhere, you have to really apply yourself. If you apply yourself, in the long run, somehow, it's going to pay off. You should always try to do your best."
Teachers face new challenges, as well, including how to incorporate new technology and the pressures of standardized testing. The job's time demands are a double-edged sword. On the one hand, he says "teachers are lucky" in that they get relatively a lot of time off, between holidays and summer break. On the other hand, when classes are in session, things can get busy.
"You go home and you grade papers. You hardly get a chance to go out." He credits his own long career in part to the fact that he's unmarried and doesn't have children.
"The newer teachers are really excellent," he said. "They know a lot of good techniques, they're used to some of this technology." But "a lot of them don't stay long, because it's a tough profession, unless you really like it."
To new and aspiring teachers, he says: "It's not going to be as easy as it was when I started, otherwise I wouldn't have survived 60 years. … Try to keep a good pace. Don't overdo the job. If you do your best and the kids like you, I think you'll really stay as a teacher."
Asked why students struggled with math more than any other subject in the state's most recent round of standardized testing, he said: "A lot of the students just have a poor background [in math]. So I think that kind of shows up later. … We have a lot of students whose parents are struggling. They don't have time to help them, because of economics. … A lot of our kids are [raised by] one-parent, and the poor parent comes home from work — one parent doesn't have time to try to bring the kid up the way he should."
To parents, he says: "The students that do the best are the students where the parents start them out early. When they're two or three years old, or four years old, they could be doing math, or they could be reading. … If you can get them started early, that's a big plus."
In general, he thinks public officials "want to help any way they can with education" and have provided adequate funding in Alexandria. They should continue providing funds "for keeping the school up to par," he said.
All in all, Kokonis concluded: "I wouldn't change anything. I've had good years. … I like what I'm doing."