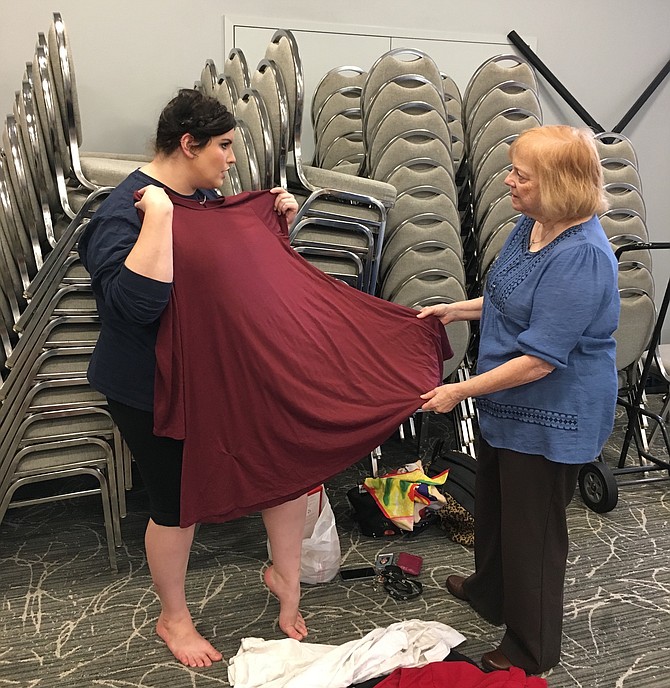 "A Shayna Maidel," translated from Yiddish to mean "A Pretty Girl," is the story of two Polish sisters reunited after World War II. The older sister, Lusia, survived imprisonment in a Nazi concentration camp, while the younger, Rayzel, or her American name, Rose, was brought up in the United States.
How and why this separation happened is revealed in the story by playwright Barbara Lebow as they reunite in New York in 1946.
"It's a universal story of a family that separated because of the war and the trials they work through because of that war," director Laurie T. Freed said. "I fell in love with this play. Besides being poignant, it speaks of the current immigrant experience."
The show will be performed weekends beginning Thursday, Oct 11 at Congregation Har Shalom, 11510 Falls Road, Potomac.
Jillian Blair plays Mama, who did not survive the war, but comes to life in dream sequences during the production.
Blair said the process of bringing the play to life has been rewarding for her and her understanding of the Holocaust.
"It has been heavy on my heart," she said. "'Mama' always says everything happens for a reason so I have to keep faith."
Though the play has a Yiddish title, it is not a "Jewish" play, Jerry Schuchman, who portrays Mordechai, the father, said.
"Any play with the Holocaust as a big factor certainly speaks to a Jewish audience and a human audience," he said. "[But] immigration is relevant today, family separation is relevant today, it's a family drama."
It is all about family, Freed said.
"Family and the importance of family coming together to help one another, and definitely about forgiveness," she said. "And hope. To be strong enough to go through the concentration camps. And courage."
Freed is also artistic director of Peace Mountain Theatre Company which is putting on "A Shayna Maidel."
The company was founded in 2014 and got its name from Har Shalom which translated from Hebrew means Peace Mountain, Freed said. The synagogue allows them to use its facilities for their annual production.
"We are limited to one per year because the synagogue is busy and can't handle more than one show," Freed said.
Peace Mountain Theatre Company is a professional company; everyone gets paid, but is also a "theatre with a purpose," she said.
Each year the company selects a cause and holds community outreach programs related to the cause. This year's purpose is to explore the immigrant experience.
There will be two panel discussions on immigration following the 2 p.m. shows on Sunday, Oct. 14 and Sunday, Oct. 21.
The Oct. 14 discussion, "The Jewish American Dream," will include five people who will discuss why they left their homeland and what it has been like in America, Freed said.
On Oct. 21 the discussion is about "The Current Immigrant Experience."
"We are hosting two immigration attorneys and a lobbyist with [an immigration justice organization]," Freed said.
"A Shayna Maidel" will be performed at 8 p.m. Oct. 11, 13, 18 and 27 and at 2 p.m. Oct. 14, 21 and 28. The show runs about two hours with one 15-minute intermission.
For tickets, visit peacemountaintheatre.com.