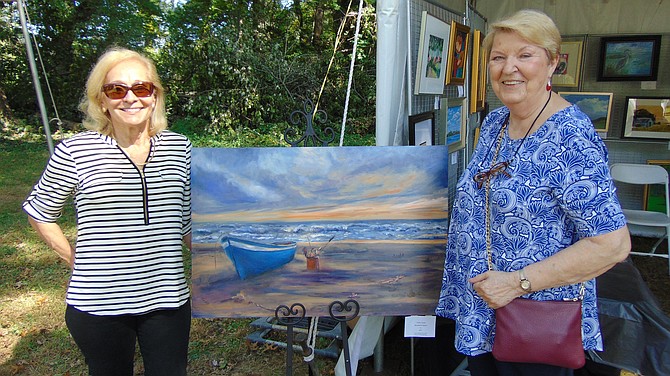 With beautiful weather, several thousand people attended the 12th annual MPA Art Fest on Sunday, Oct. 7, 2018, at McLean Central Park in McLean. The park was transformed into a landscape of mini art galleries showcasing artwork from 40 artists from the Mid-Atlantic region. Highlighting the day was an Art Walk sponsored by the New Dominion Woman's Club, which featured artwork from students in the Langley and McLean Pyramids. The event also offered STEAM (STEM+Art) and art activities to engage creative minds and captivate art-lovers of all ages. In addition, seven bands, under the direction of musical director Ken Avis, performed. And, seven food vendors from local restaurants were on hand as well.
"It's a great coming together of so many community organizations and supporters," said Deb Bissen, Director of Communications and Development, McLean Project for the Arts. "Thanks to the generosity of our area sponsors (including TTR Sotheby's) and supporters, we're able to put on this annual festival every year to bring the community together and celebrate the arts," she said.
"It is a little bit of a fund-raiser, but it's a more of a fun-raiser too. We get generous sponsorships that help provide money that defrays some of the costs," she added.
According to Jennifer Salopek, President, New Dominion Women's Club, there were 150 students who participated in the student Art Walk set up along the walkway. "New Dominion Women's Club has been proud to sponsor the Children's Art Walk for over five years. We collect artwork that has been selected by the art teachers at all of the elementary schools at the Langley and McLean Pyramids, including private schools and parochial schools. We mount them, label them and display them here along the walkway and it's known as the Children's Art Walk. And it really is so incredibly gratifying to us when we see our young artists out here standing next to their work, having their picture taken, and very proudly showing their family and friends their work."
Added Bissen of the Art Walk: "I think it's a fun thing for young children in the area who are interested in art to aspire to and a fun way for them to show their friends and their parents and grandparents what they are doing."
Del. Kathleen Murphy (D-34) sponsored a booth that highlighted the work of three special needs artists: Lee Jaworek (autistic), Jasmine Iskander, a contemporary abstract artist, and Conner Cummings, an autistic photographer. "I put this together because all of these kids have put their artwork on display down in the General Assembly and I've admired it for a long time and I thought it was really important for them to become part of the larger art community that we have up here in McLean," she said. "And this was a good opportunity for them to display their art and hopefully even sell it, because several parents have mentioned to me that they are wanting to make sure their kids can make a living going forward. And I think this is a great idea."