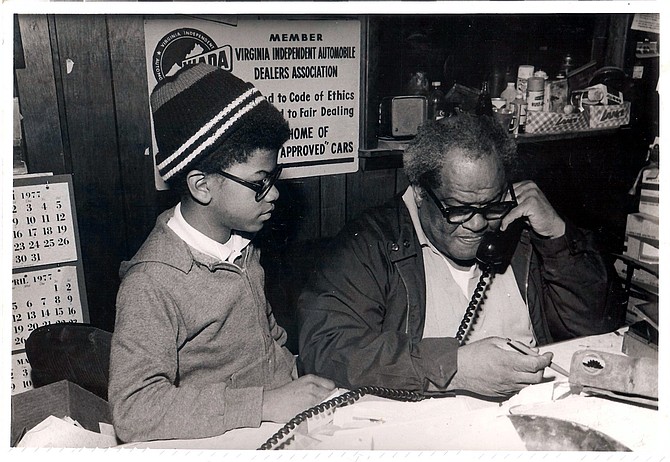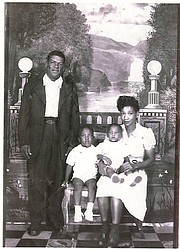 Olander Banks Sr., was an entrepreneur who had a vision of what he wanted in life for himself and his family.
At the age of 18, Olander's parents, siblings and grandparents lived at 934 North Columbus St. He started his own business at an early age as a landscaper. In 1945, he worked at the National Airport as a laborer; and, he and his wife lived on 322 Tancil Court. After 1945, Olander had two businesses: Zero Cab Taxi and a trucking business and he moved his family to 908 North Columbus St.
In 1954, Olander was listed in the City Directory as an owner of Banks Auto Parts; this business grew into a family business empire. He expanded his business to an auto and truck recycling yard. As his business grew, he moved his business from Alexandria to Newington then to Woodbridge and his final location was Spotsylvania, Va. gaining many customers along the way. His business in Newington was on 30 acres of land and in Woodbridge was on 100 acres of land. Customers came from all over the country to purchase spare parts from his auto part recycling yard. His sons worked with him, making the auto and truck recycling a family business. During the same time, Mr. Banks purchased 10 acres of land to build his dream house at 7400 Old Telegraph Road. His house was situated on a picturesque landscape that looked like a national park. There, his children and grandchildren enjoyed an atmosphere of open space and fresh air.
Mr. Banks and his wife helped young people in their neighborhood by making donations to their football and little league teams. During the summer months, at least 20 children would stop by Mr. Banks' business to thank him for his contributions to their team.
After the death of his wife, Margaret Lomax-Banks, on March 14, 1996, Mr. Banks made a decision in 2001 to sell his beloved home and 10 acres of land, for a fraction of what it was worth, to the Fairfax County Park Authority. The agreement was that Mr. Banks would live on his property for the rest of his life. After his death, the property went to the park authority. He also stipulated that the park would be named, "Olander Banks and Margaret Lomax Banks Community Park."
Olander Banks, Sr., was born on June 30, 1922 to Algie Herbert Banks and Annetta Richardson in Danville, Va. Prior to 1930, his parents, siblings and grandparents migrated to Alexandria. Mr. Banks attended Parker-Gray School completing his education in the seventh grade.
After 1940, he married Margaret Lomax and they had nine children: Olander Jr., Cardell, Micheal, Gregory "Rickey," Deborah, Ronald, Bernadette, Carolyn and Kenneth. Mr. Banks had one child prior to his marriage, named Evelyn.
Olander was a good role model for his children and his grandchildren. Several of his descendants have embarked on their own business venture. His granddaughter, Dena Banks and her husband, Garold are entrepreneurs. They own two Mosaic Barber and Beauty Salons in Prince William County, Va.
On Jan. 11, 2011, Olander Banks Sr., died at the age of 88 in Springfield, Va. Beyond his children, grandchildren and great-grandchildren, his sister Ernestine Banks-Lipscomb survived him. Mr. Banks was buried at Mount Comfort Cemetery.
To understand the many accomplishments of Mr. Banks, one should visit Olander Banks Sr., and Margaret Lomax Banks Community Park at 7400 Old Telegraph Road, then one would see what he accomplished and the vision he had for his family. He was a visionary and planner. He knew how to get the job done. Mr. Banks left his blueprint of success to his descendants.
Char McCargo Bah is a freelance writer, independent historian, genealogist and a Living Legend of Alexandria. Visit her blog at www.theotheralexandria.com for more about "The Other Alexandria."