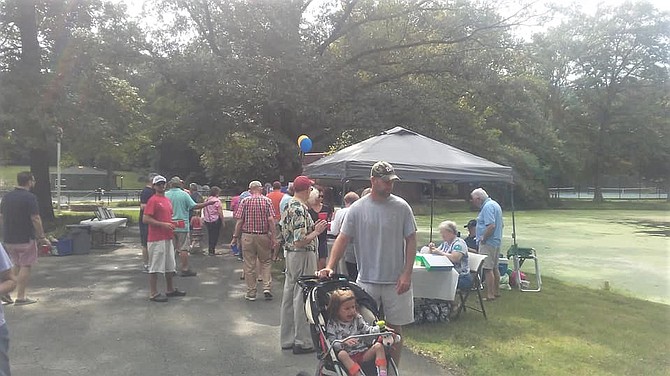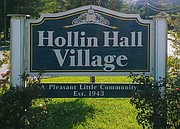 Sunday, Oct. 7, was a sunny, picturesque 85-degree day in Alexandria which provided the perfect backdrop for a community celebration. The Hollin Hall Village Citizens Association hosted a celebration for current and former citizens to acknowledge the 75th anniversary of the community's establishment.
The event was held at Mount Vernon Park Association and featured locally owned food trucks, neighborhood band Close2Home, activities for children, and a display of proclamations and acknowledgements from local politicians, U.S. Senators Tim Kaine and Mark Warner, and an insert in the U.S. Congressional Record sponsored by U.S. Rep. Don Beyer.
Hollin Hall Village was established in 1943, when Fairfax County approved the first two sections of the Hollin Hall Subdivision. John McPherson Sr. was the main developer of Hollin Hall Village and believed in the future development of the community. Hollin Hall Village then began to witness an expansion of home development during the early 1950s. Since then, generations of residents have called Hollin Hall Village their home, enjoying the small town feel and quality of life, while being about 10 miles south of Washington D.C.
Today, Hollin Hall Village is a vibrant community of approximately 700 single family homes and local businesses. Hollin Hall Village contains two shopping centers with community staples, specialty stores, and a senior's center which are all within an easy walk for all residents. There is also a baseball field which is the home field to many neighborhood children.
The health of a community can be judged through its level of civic engagement. The Hollin Hall Village Citizens Association consists of local citizens who volunteer to serve their community and represent their neighborhood at district meetings and participate on county boards and committees. Hollin Hall Village continues to uphold and preserve its small-town environment, while continuously remaining involved with the issues impacting the future of their district, county, and the Commonwealth of Virginia.
The Citizens Association's Board of Directors consisting of President Ted Godbout, Vice President Vincent Fusaro, Treasurer Leo Milanowski, Secretary Carrie DePoto, General Director Tim Foerster, and Editor Tammy Loverdos, along with with some volunteer citizens, worked in collaboration to coordinate the celebration. Mount Vernon District Supervisor Dan Storck, state Del. Paul Krizek, and state Senators Adam Ebbin and Scott Surovell all attended the celebration and congratulated the community on its milestone achievement.
The Citizens Association also developed a 75th anniversary booklet containing articles, stories, and photos throughout its 75-year history which was available at the event. The stories and photos in the booklet were written or submitted by local citizens. To learn more about Hollin Hall Village, or to obtain a 75th anniversary booklet, visit www.hhvca.org.
The writer is vice president of Hollin Hall Village Citizens Association's Board of Directors.