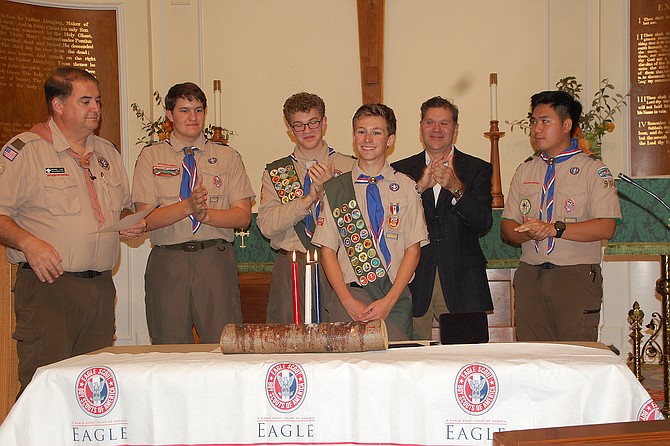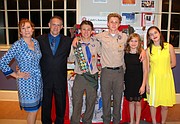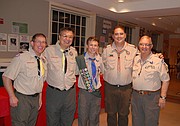 After eight years of hard work, Caleb Himes, 18, of McLean received his Eagle Scout Court of Honor on Sept. 24, 2018. For his Eagle Scout project, the son of Michael and Paige Farrington-Himes, built a Monarch Waystation at Kent Gardens Elementary School, designed to protect and nourish the Monarch butterflies during their annual migration to Mexico. He officially became an Eagle Scout on Aug. 27.
"Receiving my Eagle Scout award and my Court of Honor felt very gratifying and rewarding. It gave me a lot of pride. The planning process to assemble and carry out my project took over 149 hours. It was tough and it was a lot of hard work and I learned a lot," said Caleb, a senior at McLean High School.
The Court of Honor ceremony took place at St. John's Episcopal Church in McLean with about 40 family members, friends, troop members and acquaintances. Caleb's younger brother Ethan, who is on his way to become an Eagle Scout, served as the Master of Ceremonies.
Caleb started planning the Monarch Waystation project in August 2017, and with the help of 12-13 scouts last summer, spent hours building the 150-square-foot garden that will grow purple cone flowers, milkweeds, and Joe Pye weeds. "I enjoyed mentoring the younger scouts and helping them with my project; showing them how to use a drill and lay out the plants and carry out the project," he said.
Caleb's next step is becoming a member of NESA -- the National Eagle Scout Association, which provides college scholarships to Eagle Scouts. "They do volunteer leadership to support districts and councils; they conduct committees regularly and the Courts of Honor Boards of Review," he said.
He has been in Scouting almost half of his life -- he started Cub Scouts in 2010 when he joined Pack 1127 at Kent Gardens Elementary at age 9. He followed that in 2012 when he became a Boy Scout with Troop 128 at St. John's Episcopal, and he's been working on his Eagle Scout ever since.
At McLean High School, Caleb is a member of the National Honor Society and is a trumpeter in the school's Marching Band, which just won the state championship in Group 6 Open category. He participated in the Cavalier Marching Band Leadership Camp last summer at UVA and remains active by doing more than 300 hours of community service. He aspires to become a "change-maker" in the community, he said. For college, he plans on attending a Virginia school where he will study foreign policy, computer science, international business or psychology.
His Monarch Waystation will provide milkweed and shelter for Monarch butterflies during their Spring and Summer breeding season, and it is certified through MonarchWatch.org and included in the International Monarch Waystation Registry: https://www.monarchwatch.org/waystations/index.html.