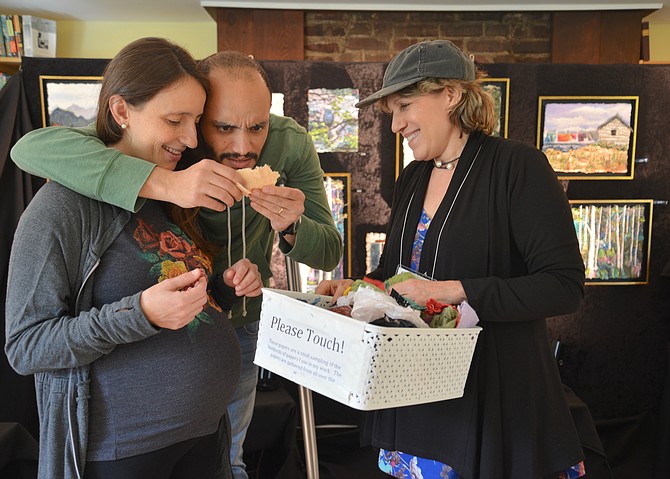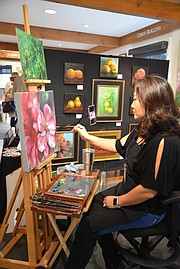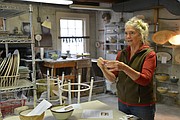 The annual Great Falls Studios Art Tour with its 2018 15th edition, ran for three days, from Oct. 19 through Oct. 21. Good thing, since even three days probably weren't enough to really take in all of the talent on display by some forty local artists and artisans.
Painters working in all styles, sculptors, illustrators, jewelry and furniture makers, potters, printmakers and photographers and mixed media masters opened their studios – in many cases their homes – to hordes of art appreciators who wandered Great Falls with map in hand to see the artists at work and the amazing fruits of their labor. Some of those visitors (including one Connection reporter who shall remain nameless at this point in the story) couldn't resist taking home a few of the pieces that they found along the way.
Many of the tour-goers started their adventure at the welcome stand, hosted by TD Bank, right in the center of town, where tour managers Linda Jones and Vlad Moskowitz were on hand to greet and meet and offer suggestions and information about hands on activities taking place during the tour.
From the TD Bank tour headquarters, without having to re-park the car, "tourists" could easily move over to the Green and visit the gallery at the Artists' Atelier at the Arts of Great Falls School. On Saturday, this gallery, studio and art school featured painters Jill Banks, Joyce Lee, Jennifer Duncan, Elaine Elinksy and John Francis McCabe, along with the photography of Walt Lawrence and the mixed media works of Roberta Beasley.
Lee had her easel all set up and was working away on a beautiful floral painting while Banks talked teaching and inspiration as she stood in the midst of many of her European street and café scene oils.
A SHORT WALK around the corner and painters Cindi Berry, Robin Rosner and Donna Robinson all had their works on display at The Artists' Loft.
If all that fresh air had you hungry, Great Falls Studio partner The Old Brogue and Katie's was handy and another place where local art can often be seen, like at TD Bank, the Great Falls Library and local Brightview Assisted Living.
Before venturing deep into the wooded lanes of Great Falls, there were several stops either on or just off Georgetown Pike, Walker Road, River Bend Road and even the Leesburg Pike.
At one of those stops, three talented ladies – Roberta Drabyk, Ann Noel, and Mary Ellen Mogee -- share working space at AHH! (Art Happens Here!) at 717C Walker Road. All three were happy to illustrate the creative process. Drabyk is exploring abstract art in the "color field" style, a movement that was pioneered right in D.C. by artist Kenneth Noland in the 1950s.
Mogee was busy experimenting with the "pouring paint" technique using a flowing, diffusing paint. "I'm still working with it, getting to know it," she said as she "encouraged" one of the colors to mix with another to look "more like flower petals." Studio neighbor Noel was a long-time Torpedo Factory artist in Alexandria and is still associated with the facility. During the tour, she had brightly colored portraits and whimsical pieces on display.
For the more intrepid and better map readers – although helpful Art Studio Tours signs with numbers and hundreds of balloons tied to trees helpfully highlighted the way – there were artistic finds well worth a trek off the main road.
Soroush and Moara Parsa, who came from Silver Spring, rather accidentally discovered the tour and are not really familiar with Great Falls, agreed. The long, gravel road that brought them to Hidden Springs Farm, the Farmhouse, and the next door Milk House Studio were well worth the finding.
The pair spent a lengthy time with mixed media artist Ronni Jolles. Soroush was particularly fascinated with the various papers, sourced from around the world, that Jolles uses to create scenes that "almost jump out at you, they are so real."
Hidden Springs Farm is the family home of craftswoman Laura Nichols who is as happy to talk about life on the farm from its early days of angus beef raising as she is to show off her beautiful and utilitarian pottery works, standing in front of the warmth of the large fireplace in her Pig Pen Pottery studio. She can also tell you all about the founding of the Studio Tour "when we started with seven artists and had about 50 guests attending through torrential rains."
AT THE FARM HOUSE up the hill is where Jolles and painter Doreen Montis were to be found, Jolles with her paper paintings, and Montis with a series of oils featuring local wildlife. "I can spend a lot of time watching the foxes," said Montis, and her observations certainly come to life on canvas.
Just next door at the Milk House – so named because that is where the family's cows were indeed milked, the family tradition is carried on by Nichols' daughter, Jenny. The younger Nichols is a filmmaker by trade, producing documentaries mostly for environmental organizations and causes, but somehow manages to find the time to also create water colors, ink drawings, prints, greeting cards, and even tea towels.
Off of Leigh Mill Road and down another interesting gravel road, Gurusangat Khalsa opened a home that is filled with eclectic, mixed media works, from an imposing metal sculpture. "Yup, I like the fire and the heat of the welder", she said. She also displayed a large number of repurposed pieces, using layers of stickers from everyday items painted over, and sometimes given a recycled "something or other" to add to the story that Khalsa sees when she creates.
Penny Ross Burk was stationed in the entryway of the Khalsa home/studio. Burk's "day job" is as a makeup artist, starting "with the gory stuff for movies" but now mostly for television. On the Saturday of the tour, she was there as an author and illustrator of children's books and was delighting visitors as she sat and worked on an upcoming new literary endeavour. Working in vivid watercolors, Burk painted her characters in miniature in a small artist's notebook – the second physical step in her process after pencilling out the creations that she will soon bring to "life."
It was painfully difficult to choose just this handful among the many talented Great Falls artists who participate in the Tour and that choice doesn't reflect anything but the time and space allowed.
THE GREAT FALLS STUDIOS, officially established in 2003, is an organization of more that 100 independent artists who work in Great Falls in a variety of diverse media. The group maintains a website at www.greatfallsstudios.com that includes Artist' Pages with information and contact details about these mentioned artists and their equally talented compatriots. On this site you can even see a virtual gallery showing some of their work. It's also a good place to keep up with other events, like the "Three Days with the Artists at Hidden Springs Farm" coming up on Nov. 16 through Nov. 18, and the venues that showcase the creations of the Great Falls art community.