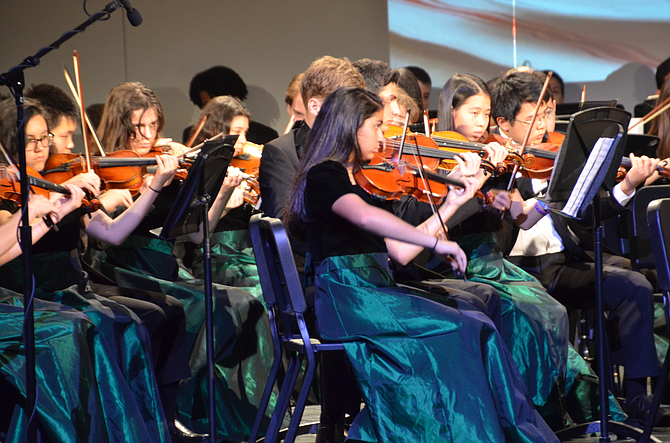 Halloween just isn't the same without great music to fit the occasion, and nobody knows this better than the award-winning Langley High School Orchestra, which will present a Spookfest concert on Tuesday, Oct. 30 at 7 p.m. in the Langley High School Auditorium.
The Freshman Orchestra will begin the night with classics such as the soundtrack from "The Phantom of the Opera."
Immediately afterward, listeners will be riveted by a performance of the famous "In the Hall of the Mountain King" by a unique ensemble of more than eighteen cellists known collectively as The Cello Choir.
The Philharmonic Orchestra will dazzle the audience with dark 19th-century masterpieces by composers Saint-Saens and Liszt, featuring a violin soloist, three virtuoso pianists, and musicians from the accomplished Langley High School Band.
Finally, the night will be capped off by a rendition of Michael Jackson's iconic "Thriller," played by the Symphonic Orchestra.
Before the music, concert-goers are encouraged to admire the work of the Langley photography department, which will be displaying their own Halloween-themed photography in the hall adjacent to the auditorium.
This concert is free to the public and designed for all ages. Appropriate costumes are welcome for performers and audience members alike.
If you dare, come out and enjoy the show.