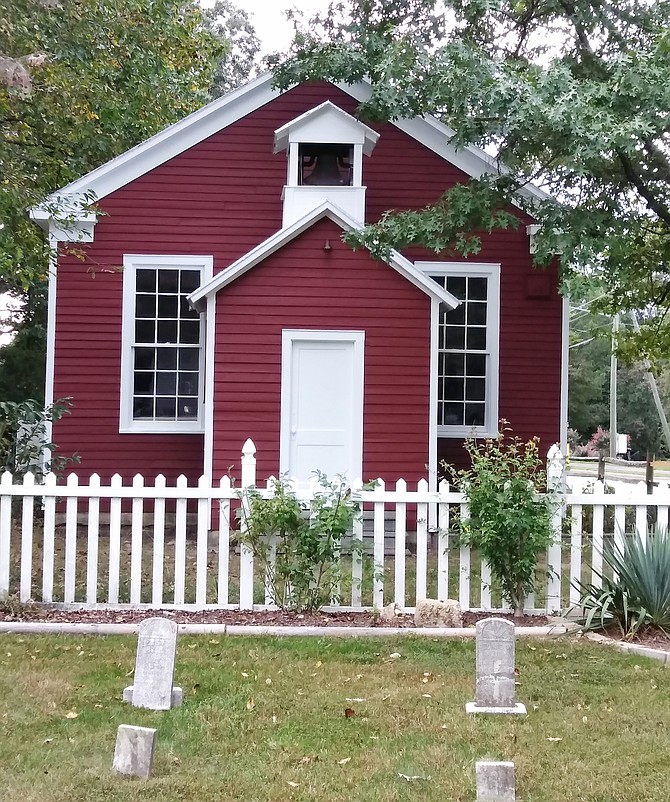 Upcoming: Fall Yard + Bake Sales
The schoolhouse is open by appointment, or during one of their regularly scheduled events, including their Annual Fall Yard + Bake Sales on Nov. 3 (8 a.m. – 1 p.m.) and Nov. 10 (8 a.m. – Noon). Items for the yard sales may be dropped off at their Donation Drop-Off Days on Oct. 20 or 27 (9 a.m. – Noon), or by appointment. The Historic Sydenstricker Schoolhouse is located at 8511 Hooes Road in Springfield. For more information, visit http://www.sydens...">www.sydenstricker..., or email info@sydenstricke....
Big things are happening at the little red schoolhouse on Hooes Road in Springfield. Due to the diligent fund-raising efforts of Friends of Sydenstricker Schoolhouse, and an outpouring of support by the local community, the schoolhouse is finally getting the exterior restoration that it has needed for so long, just in time for its 90th birthday. The schoolhouse, which replaced an earlier schoolhouse that had burned down, was constructed in just 4 months, and opened its doors to students in November 1928. The building is listed in the Fairfax Inventory of Historic Sites, The Virginia Landmark Register, and was added to the National Register of Historic Places in 2012. It was the last one-room schoolhouse in the county built prior to consolidation, and when it closed in 1939 it was among the last operating one-room schoolhouses in Fairfax County. Although no longer used as a school, the building continued to be used for community events, wedding receptions and civic meetings. In August 1943, the building became home to the Red Cross "Sydenstricker Surgical Dressing Unit", where bandages were rolled by the members of the community to support the war effort. In 1954 the Upper Pohick Community League (which had already been using the schoolhouse for many years) purchased the building from the school district for $550 to use as a community center. During the 1950s the League sponsored a Boy and Girl Scout troop, as well as a "Litter Buggy" which collected trash from local roads. In the 1980s the schoolhouse sat directly in the path of the proposed Fairfax County Parkway. Due to efforts of the League, the location of the Parkway was shifted, thereby saving the schoolhouse and the neighboring historic chapel.
THIS YEAR the League celebrates their 70th anniversary and is the oldest continually operating community association in Springfield, and among the oldest in Fairfax County. In recent years, the schoolhouse has been used for a debate between state senate candidates and district council meetings, as well as for meetings by non-profit groups, lectures, HOA meetings and as a rehearsal location for a non-profit theater company. But without a steady stream of income to make expensive repairs, the condition of the schoolhouse was quickly deteriorating. Lisa Friedrich Becker, President of Friends of Sydenstricker Schoolhouse, has worked with members of her organization to solicit donations from the community to help fund the restoration. "We love cash donations, but most of our donations are in the form of household items, furniture, clothing, toys and books that we sell at our annual yard sales, or on Craigslist," says Becker. "The community loves that they can drop off their unused household items, and that the proceeds from their sale will go 100 percent into restoring the schoolhouse. They can see their donations at work first-hand, and they get a receipt that they can use for tax purposes. It's a win-win!" Friends of Sydenstricker Schoolhouse (FSS) has also held several Community Coffee Houses featuring local musicians, and food donated by local vendors, a performance of "Will Rogers, USA", and two very successful Trivia Nights, with all proceeds benefiting the restoration project. "It's a lot of work", says Becker, "but it's truly a labor of love." The building still has its original foundation, framing and studs, trim, siding, wavy glass windows and beautiful pine floors. It has been altered very little since it was used as a schoolhouse, and it still stands on its original site. "In fact," says Becker, "the history commission says that our schoolhouse is the best preserved one-room schoolhouse in Fairfax County. I'm reminded of the phrase 'In neglect is preservation,' which is exactly what happened here. We've simply never had any money to make changes or update the schoolhouse. I guess this turned out to be a good thing! Now we can do it right!" FSS is working with Kolas Contracting, a local family-owned business that specializes in historic projects to complete the restoration. The project is especially tedious and time consuming because the original lead paint needs to be carefully removed and disposed of properly. In an effort to preserve as much of the original structure as possible, the existing siding is being repaired and epoxied, and only replaced if absolutely necessary.
EVERY CARE is being taken to preserve the authenticity of the schoolhouse as much as possible. Records show that the building was originally painted yellow, later white, and eventually red in the 1960s. When planning the restoration, the group briefly discussed repainting the schoolhouse white, but quickly realized that the schoolhouse (known by the community as "The Little Red Schoolhouse") has actually been red longer than any other color. Becker, an interior designer, researched color palettes of other historic red schoolhouses, and negotiated with Sherwin Williams to have the paint and primer for the project donated. Now that the painting and restoration of the siding and windows is complete, the next focus of attention will be on the roof, electrical, and interior restoration. Donations are needed to fund the ongoing renovations and improvements to the schoolhouse and grounds. "The only way we can keep the schoolhouse going is by involving the entire community and educating everyone about this incredible piece of history right here in our neighborhood," says Becker. "Most people who visit tell us that they have lived here for 20 years, and never knew it existed! We want to change that. This schoolhouse belongs to all of us, and we want everyone to feel personally invested. The schoolhouse has sat as a silent witness to many changes in our community for nearly a century, and it's a wonderful reminder of our history, and a simpler way of life."