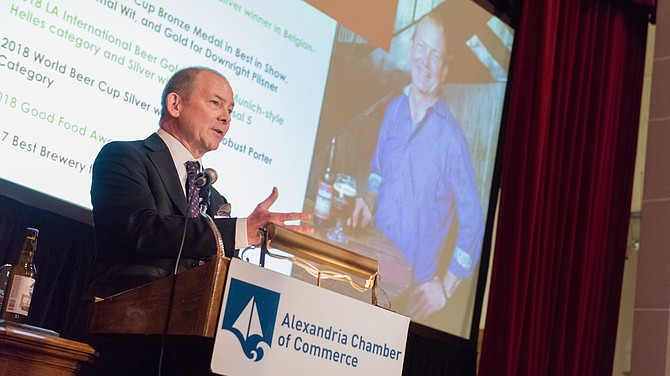 "Starting a business is such a leap of faith." —LaJuanna Russell, founder and CEO, Business Management Associates
The stars of local businesses were shining Oct. 17 as the Alexandria Chamber of Commerce held its annual 2018 Best in Business awards. Presented by Burke and Herbert Bank, more than 240 people gathered at the George Washington Masonic Memorial to honor leaders in the business and nonprofit communities.
"Starting a business is such a leap of faith," said LaJuanna Russell, founder and CEO of Medium Business of the Year winner Business Management Associates. "It's an honor to receive this award and I am thankful for the support the Alexandria community has given me."
Bill Butcher, founder and president of Port City Brewing Company, was honored as the 2018 Business Leader of the Year.
"I grew up here," said Butcher, a fourth generation Alexandrian and graduate of T.C. Williams High School. "It's a dream come true having a business here in Alexandria."
Butcher, known as much for his philanthropic endeavors as for his beer, credited his mother for an early lesson on customer service.
"I inherited a paper route delivering the Alexandria Gazette from Dana Lawhorne," Butcher said. "One Christmas Eve my mother suggested I tie red ribbons around the papers before making my deliveries. People really appreciated that and it showed me that just a little extra effort can make a big impact."
Butcher added with a laugh: "I also got some nice tips that year."
Butcher and his wife Karen founded Port City Brewing in 2011 with a focus on "a great product, great customer service and great community engagement."
"Karen said early on that if we don't have a little left over for us to give back then we're doing something wrong," Butcher said. "Alexandria is an important part of our brand identity and we thank the business community for its ongoing support of your local brewery."
Other 2018 business awards included: Small Business – AR Workshop; Medium Business – Business Management Associates; Large Business – B3 Solutions; Overall Business – American Physical Therapy Association; Nonprofit/Association (tie) – RunningBrooke and Together We Bake; Rising Star – Alexandria Living Magazine.